Chaves promotes education, plans on running for Miss France 2019
UPDATE: Jan. 22, 2019
Vaimalama Chaves, Miss Tahiti 2018 competed in the Miss France competition on December 15th in the Northern city of Lille, France at the Zénith de Lille event center.
At 24 years old, she was among 30 contestants with 7.3 million people watching across the world as she was crowned.
It has been 20 years since a Miss Tahiti was crowned Miss France, it has been a "curse" with Miss Tahiti's always making it to the top 5, but never winning. Vaimalama broke the curse, winning Miss France 2019!
Original article
Representing her country through both brains and beauty, this year's Miss Tahiti 2018, Vaimalama Chaves, strives to make her people proud and bring awareness to issues she stands for. Miss Tahiti is one of the most avidly awaited public events in the country and the most lavish and expensive regional event in all of the French Territories.
Chaves was born in Mahina, French Polynesia, but she represents multiple ethnicities, such as French, Chinese, and other ethnicities from Europe and Asia. This aspect caused her to stand out to judges and gave her an advantage in the competition. 
As a child, Chaves watched the Miss Tahiti competition on TV and admired the way the contestants held themselves and represented a worthy cause. She describes some women who acted as role models and influenced her decision to run for Miss Tahiti.
"I always knew it (the pageant) because they are role models," Chaves said. "They were everywhere, they are famous in our islands and they are amazing women and I decided to go over there because I wanted to show an example. It started with Hinarani de Longeaux in 2012, and also Mareva Georges who became Miss Tahiti in 1990 and became Miss France in 1991."
In junior high, Chaves claimed that her classmates and adults judged her for her looks, not her personality or abilities. One day she decided enough was enough and and decided to run for Miss Tahiti to prove to everyone she was more than what people saw her as. And although some people disapproved of the idea, she pushed through the negativity, which resulted in her victory as Miss Tahiti 2018.
"There's no word to say," Chaves said. "It was just amazing. I was floating, and it was a crazy moment. Sometimes I wish I could do it again."
In the podcast below, Kamryn Schultz talks to Vaimalama Chaves about becoming Miss Tahiti 2018.
Now that Chaves has won the title, many responsibilities go along with it. As Miss Tahiti 2018, Chaves' platform relates to education. She believes education is the most powerful weapon people can use to change the world, and expands on how it starts with the children.
"My platform is education because for me it's what most important in society," Chaves said. "…I totally agree because children will be willing to do their job with all their hearts and they can find their way in medicine, maybe a cure against HIV or against cancers or they can be pilots that find their way in new technologic things. So what he's doing (the child) is going to be happy and I would also like to help our society."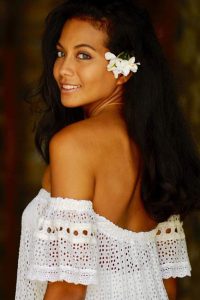 Chaves also moves for representation, mainly to involve herself in social projects. She mainly deals with children in hospitals and how to make their stay easier. She promotes multiple islands via various videos to improve the images of her culture and people. She also participated in a three-week long summit against domestic violence and the rights of women across the islands.
Receiving the opportunity to become Miss Tahiti has taught Chaves many things. She shares what she learned in her role and how this experience changed her life.
"I learned how to be more confident and how to make decisions," Chaves said. "In Tahiti we often are listening to our parents and what they say is what we have to do. Yet I had to learn to make my own choice even if it went against my parents. I am really happy to be here today."
Chaves plans on running for Miss France 2019, along with 29 other misses from different countries. The candidates will travel to Mauritius, which allows the Miss France Organization to judge the contestants based on their beauty, talents, and platforms. The winner will be announced at the Zenith of Lille in Lille, France, Dec.15.
For more on past Miss Tahiti's, read Evening in French Polynesia luau provides cultural entertainment. For more articles read COMMENTARY: Girl Talk-Self Image.