Fresno Christian varsity cheer finishes the comp season with a first place win in their division at the 47th annual
Clovis Classic cheer competition held at Clovis High, Jan. 28. The girls have competed three times throughout the season.
Fresno Christian middle school cheer took third place in the Jr. Show Cheer Novice Division. The Eagles competed against Rio Vista, Kastner, Elizabeth Terronez Middle, Glacier Point Middle, Clark and Clovis United Universe.
Vivian Grech, '27, finished her first competition season but plans to continue with the sport.
"Our team has definitely grown closer during this competition season," Grech said. "There are stunts that we have not been able to get up, but we focused on them and worked together as a team and that brought us together."
The season started with girls varsity earning third place at CIF Invitational Div. II against Clovis North, Clovis East and Sanger, Dec. 3. Despite confusion with the scores and the music cutting out mid-performance, they pushed through with no hesitation. Fresno Christian, along with the first place winners, were the only ones to have zero deductions in their final score.
Tensions were high as they entered into the new year, eyes set on the next competition. However, it was no easy task as adjustments had to be made days before they took the mat due to unexpected injuries and team dynamics. On the day of the competition, the Eagles placed sixth at the 2023 CIF Central Section Cheer and Dance Championships. The girls completed another zero-deduction performance despite the changes.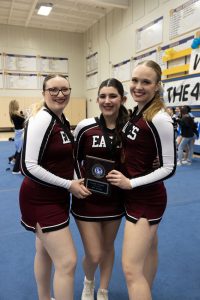 Senior Madilyn Foster reflects on her last six years as a cheerleader at Fresno Christian.
"Every long practice and hard days packed with full outs, all of it has definitely been worth it," Foster said. "Whenever you take that mat, there's a feeling that you don't get to experience anywhere else. Every year there's always something, whether that's injuries or circumstances we grow from that and make the changes that we need to and we fight in those situations."
As the seniors prepare to move on, the cheer team begin to adjust as the season comes to an end.  Tryouts for the 2023-2024 Fresno Christian girls' varsity cheer team will be held in mid-March.
For further information stay tuned to The Feather Online.
To read more from The Feather, go to Noah Feldman speaks at San Joaquin Valley Town Hall or Theater Review: Singing in the Rain mediocre at best.