Debt to degree ration challenges the traditional college path
As the senior class makes their college decisions, there are many alternatives to attending a four-year university to consider. While scholarship and work-study programs do bring down the overall cost of a four-year education, this may not be enough to allow students to graduate without significant college debt.
As graduation approaches, so do college deadlines. One of the first things students look at when seeking a college to attend is the cost. Four or more years can cost students nearly $130,000, with only 60% of those paying students graduating on time.
For students struggling to wrap their minds around the projected college debt ratio to salary, an alternative may be trade schools. By the year 2022, nearly 72% of American high schoolers sought alternatives to a four-year college, but only 30% considered vocational/trade school.
Trade school is an alternative that few students are interested in, but can be a valuable consideration for those unable to attend a four-year college. So what is the difference between attending a university and a trade school?
Two things to consider when possibly attending a trade school, as opposed to a four-year college, is the significant difference in time and money. It can cost less than $35,000 to attend a trade school for two years or under. With an almost 99% graduation rate, attending a trade school becomes a viable option for more cautious students.
Although one option isn't necessarily better than the other, one may be better suited for students seeking certain career paths or salaries. The increase in trade school success can be attributed to the growing number of jobs that no longer require college degrees.
The Central Valley hosts many trade/vocational schools
For example, San Joaquin Valley College (SJVC) offers many different certificates and degrees for minimal price and time. Those seeking a career path within the medical field have plenty of options such as surgical technology, pharmaceutical technology, dental assisting and clinical assisting. In these courses, students learn to safely handle medical specimens, assemble surgical equipment, create and maintain sterile fields, and many other hands-on learning techniques.
Amanda Birwel is a Career Services Coordinator at SJVC.
"We provide courses for specifically skilled students and even those who struggled to achieve in high school," Birwel said. "If students struggle to find skills to apply to a career path, we are very helpful in that as well."
View this post on Instagram
SJVC also provides many other minimal-time courses such as business and construction. In these courses, students can develop into knowledgeable, ethical, and technically competent business professionals. A student in a construction program can earn a Construction Management Associate Degree in as little as 14 months or a Bachelor of Science Degree in as little as 32 months.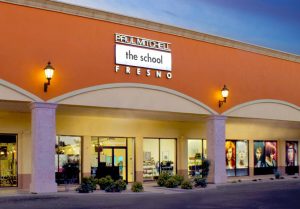 Another popular trade school that focuses on vocational skill courses is Paul Mitchell, which has over 100,000 salons in 81 countries. Paul Mitchell Beauty School is located in a transportation ­friendly central corner of northeast Fresno.
Paul Mitchell offers courses in Barbery alongside cosmetology. Basic skills such as haircutting material and skin care treatment are taught, further excelling in practice on real clients. Eventually, students will be able to independently cut under mentor supervision  With tuition being less than $14,000 dollars for 1,000 hours, it becomes a viable option for those seeking a career path in Barbery.
Paul Mitchell graduates nearly 10,00 students every year, from over 100 different campuses. Current senior, Madi Foster, hopes to be one of those graduates.
"I've always had a passion for styling hair, so I want to pursue that in college and make a career out of it after," Foster said. "I was on the fence about it, but after touring the campus and speaking to teachers and academic advisors, I knew I wanted to go".
Similarly, Fresno City College offers many of the same vocational skill programs for minimal time and price. For example, a student who desires to be a firefighter may join the academy at Fresno City and receive the 500-599 hours of training required.
Fresno Christian graduate Seth Fuller, '22, is now in the welding program at Fresno City College.
"I chose a trade school over other schools because the classes are very in demand," Fuller said. "The experience is awesome as the classes go by quickly with a good learning environment."
Another factor that Fuller found persuasive as the price is the experience. In terms of academics, the college experience brings students many classroom lectures, which can drive them away from their interests.
According to Educational stats, 21.4% of students will drop out after one year of college. Trade schools traditionally offer a hands-on learning environment to keep students within their studies. In fact, 21% more students who attend trade school work within their field of study after graduation, than those who attend a traditional college.
Former general education teacher at the Institute of Technology, Scott Falk, gives us insight into the experience of trade school education.
"General education courses are all elementary level courses because the main structure of their curriculum is specific vocational skill classes," Falk said. "They provide course work at a level that students can handle while providing students with skills to quickly get a job."
The process of applying to a trade school is also similar to applying to any other college. After figuring out which school you'd like to attend, a high school diploma or a GED is required in order to apply. After completing your applications you must have an interview with an admissions representative. Finally, you must complete and pass the trade school admissions test.
The average starting salary for those who attend a university is $47,000, while the starting salary after attending trade school is $36,000. Finance, experience and job outcome are all key factors that benefit certain groups of students who would prefer trade school.
Fresno Christian academic counselor Evangelina Escovedo gives her insight on who trade school is best suited for.
"I don't believe one option to be better than the other, a traditional university pathway isn't for everyone," Escovedo said. "When you're going to a trade school or vocational program, it's very specific when studying what you want to do with your career."
The direct, hands-on experience makes time at a trade school so minimal. Other classes that assist GPA are not required, allowing students to focus on one career path. This is the reason the graduation rate is 98.4% and the dropout rate is less than 2%.
Attending a trade school appears to be the easier option, but it may not be the best option for students. There are many important career paths that require a four-year degree, such as being a registered nurse, financial manager, software engineer, industrial technician, etc.
Statistics show that attending a trade school may keep students financially stable while also giving them a near guarantee of employment. However, only certain courses from colleges can provide opportunities for students who want to shoot for the stars.
College demands more sacrifice from students, but those willing to go through the hard process will certainly receive a payoff.
Students who desire minimal time and price will also benefit and job opportunities will come just as quickly as four-year graduates. Despite the small amount of time in education, trade schools are a stronghold for students that will guarantee employment status with a bright future.
There are many benefits that can come from attending either a vocational school or a four-year university. It is important for students unable to afford four years at college to remain informed that trade schools may be the best-suited option for them.
To read more about The Feather, go to GED: An alternative to traditional education, or Sense of Style: Elevating your look. 
Follow The Feather via Twitter @thefeather, Instagram @thefeatheronline, and Facebook @thefeatheronline
Slideshow: Catalog images from SJVC vocational program options.