Fads, trends and classics oh my! Not to sound trite, but it's definitely hard to keep track of and tell apart. Thankfully, that's what I'm here to discuss. The line between these can be especially difficult to determine and even harder to look out for when shopping or even just looking in the fashion world.
My adviser and I recently had a discussion about trends – what exactly are they and where do they fit in? What differentiates a trend from a classic and is there even any difference? Do trends even mean anything in the high fashion industry?
So I got to researching and realized there's a lot more to this than I initially thought. Here's my guide to what makes a fad, a trend or a classic different.
Fads
I'll start off short and sweet with fads. Fads and trends are easily the most difficult to tell apart of the three categories. A fad is defined as "an intense and widely shared enthusiasm for something, especially one that is short-lived; a craze."
The easiest way I've heard to tell apart fads and trends is this – fads fade. They're often pieces that are so out of the box and random that everyone goes crazy just to have one. They're dated, uncool or out-of-style within a season, or even just a month.
I've found that these types of pieces in general are best avoided. Although fun at the time, sure, they're almost a surefire way to the train of regret. They don't last long-term and almost never come back into style – like Y2K skirt-over-pants layering or tinsel hair. Trust me, I know from experience.
However, fads can also be a fun and easy way to test if you like a particular style. Trying something new is always exciting and can be helpful long term. Just think of a "don't knock it 'till you try it" mindset. All I caution is that you think before you purchase – it's never fun to be stuck with unworn clothing (or embarrassing photos).
Trends
So what makes a trend so different from a fad? To compare, a trend is defined as "a general direction in which something is developing or changing." Trends often branch off from classics as some sort of variation. For example, this would include different styles of denim such as bellbottom, bedazzled or patchwork.
Trends can last up to a decade longer than fads, but on average last about a year and come back into style much more frequently. They're a much safer bet when it comes to avoiding regret.
Since they tend to come back into current fashion, you can buy these without worrying as much that you won't end up wearing them. They're usually good for a while before they start to date. Although, yes, a trend will go out of style eventually, that shouldn't necessarily stop you from wearing it.
With trends, you can pick and choose what you think you will wear for longer and maybe even what will become a consistent closet favorite. Some pieces last longer in your closet than others – you may outgrow the trend and no longer find use in wearing it. Just know that's 100% normal and practically bound to happen.
Classics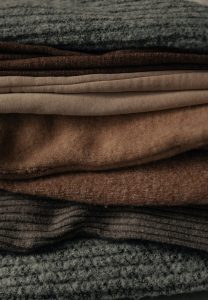 Ah, the classics. Never changing, always consistent. Classics often go unnoticed in the fashion world because of their tendency to shadow whatever the current trend is. They are the underlying factor of every piece of clothing.
Classics are defined as "judged over a period of time to be of the highest quality and outstanding of its kind." In other words, they are essential to the fashion industry.
Where a trend is a style that something comes as, a classic can be the material, color or texture. They've usually been established over time and go with pretty much any outfit. Examples might include denim, animal prints, leather or even a basic tee.
Items like these are less of a statement compared to trends and especially fads, but will always look nice and put together. Usually neutral colors or styles, they should be able to look good on anybody no matter how much time goes by. They never really go out of style and should be staple pieces in your closet.
Personal recommendations
When I began to choose pieces for my closet, I watched countless videos, compiling lists of must-have items. These essentially built my style and allowed me to create great outfits easily with little effort. I made a list of a few things in my collection to help you build a good foundation for your wardrobe. These items can all be thrifted or found for good prices as well (trust me, I know).
Mid and light-wash jeans
Black jeans
Tan slacks or suit pants
White, black, neutral tee
Jean jacket
Leather jacket
Sweater
White, black, neutral tank
Button-down shirt
Crewneck sweatshirt
Black boots
White sneakers
Make sure to tune in to my next blog where I'll cover how and when to use unique accent pieces, going out of your comfort zone and getting unstuck.
To check out my other blogs, read Sense of Style: How to build your own and Sense of Style: Elevating your look.
To read more from The Feather, go to Mental toughness in athletes or Alumni Spotlight: Ellie Koleen.