Softball Senior Night
May 19, 2023
Varsity Softball defeats the Sierra Chieftains, 14-8, April 25. Before the game, parents and coaches honor their seniors with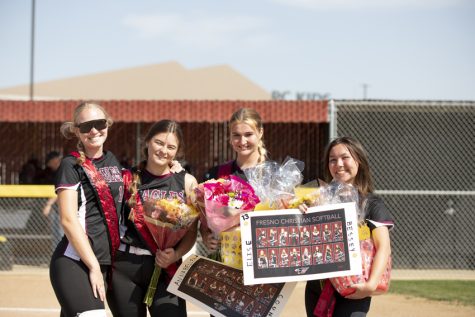 flowers and sashes. 
Seniors on the 2022-23 team include Tori Tarlton, Jazmine Davidson, Annabelle Counts and Elise Bessey. 
This is Counts' thirteenth year playing softball, she shares her favorite memories and reflects over the past few years. 
"My favorite memory from all these years was hitting an over the fence home run against Sierra on May 11, 2023. I do not plan on playing in college because I am planning on pursuing my musical theater career instead," Counts said.
"My favorite bible verse that I always remember when I'm playing is Proverbs 31:25 – 'She is clothed with strength and dignity, and she laughs without fear of what the days have to come.' This verse reminds me that this game does not define who I am, and win or lose, I am playing for the Lord. When I go up to bat or before games, I find myself engulfed in anxiety. So keeping this verse in my heart has really improved my mental state and brought more joy into the game of softball for me."  
Sierra defeats Fresno Christian 20-6, May 11. The seeds will soon be announced and softball has a chance to advance to playoffs. Stay tuned to The Feather for more information on softball. 
Fresno Christian Softball Stats:
6-14 Overall 

4-10 League

Fourth wing  
For more Feather photos, visit media, photos 2022-23.