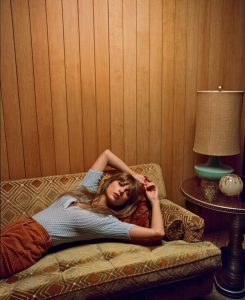 Eleven-time Grammy Award winning singer-songwriter, Taylor Swift releases another hit album, Oct. 21. Swift kept fans, "swifties," on their toes giving subtle hints about the album drop.
Swift released a bonus track following her original 'Midnights' album. 'Midnights (3am Edition)' adds seven songs to the album creating a total of twenty songs. Each song represents a different time in her life, from love to internal feelings to the struggles she faced as a child.
In comparison to Swift's other albums, she brings a new style to the table, consisting of a synth-pop, moodier vibe. Some fans feel upset that Swift didn't create something like previous albums, dividing the fans, while others feel she is coming out of her comfort zone.
One of the most popular songs on the album, "Anti-Hero," portrays what it's like to face difficult times. In the chorus "It's me, hi, I'm the problem, it's me," you can find not only an up-beat rhythm but catchy lyrics. These lyrics can be seen all over tik tok with new trends coming out each day.
"Snow on the Beach" closes in on the feeling of falling in love. It expresses the joy and happiness when you fall for someone and the same feelings reciprocated. During an interview Swift shared her excitement on having Lana Del Ray collaborate this song with her.
"Lana Del Rey, in my opinion, is one of the best musical artists ever," Swift said. "The fact that she would be so generous as to collaborate with us on this song is something I'm gonna be grateful for life."
The overall tone of this album can be seen as depressing but also romantic. I would rather have something different then to almost feel like I'm reliving the same song throughout the whole album.  When I listen to each song, I feel as though I'm hearing the same beat but with a faster or slower tempo.
After the release of this album, Taylor Swift plans to tour the U.S., starting in Arizona on March 17 and ending in Los Angeles, Aug. 9. To buy tickets visit taylorswift.com.
To read more from The Feather, go to Consequences of CA electric car mandate or PROMO: Drama presents annual winter production.