FC music programs put on annual Spring Concert
Fresno Christian band and choir students perform in the annual Spring Concert, May 8. Directed by Susan Ainley, elementary and junior high choral programs, as well high school women's ensemble, men's quartet and concert choir performed several different pieces, with the assistance of pianist Ben Certain.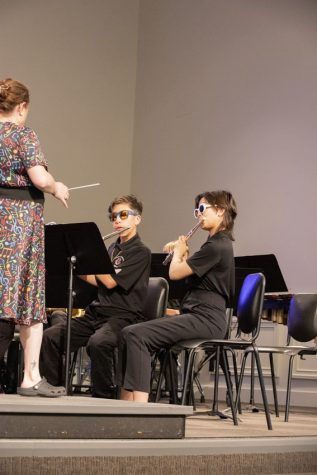 Song titles performed by choir and band the groups included "Soon We Will Be Done," "Moon Flight," "I'll Fly Away," "Sanctus" and many more. 
Ainley explains the amount of preperation and effort went into the spring concert for each of the choral students. 
"We have been preparing all year. The spring concert is usually a cumulative concert of what we have learned," Ainley said. "For this choir, this year, it was great because we really stated at one level and porgrressed so much that we were able to learn all new music and learn a much greater volume of music, so that at the end of the year we had a lot more songs to sing."
Throughout the concert, awards from the Anaheim Heritage Festival, attended by FC Choir yearly, were on display. These awards included Choral Excellence, Adjudicator Award and Maestro Award, as well as many others. 
The Maestro Award was presented to senior Dylan Tozlian for his solo performance in the Festival. Of the thousands, only 13 students who participated in Anaheim were chosen to receive this award. 
Tozlian details what it was like being up on stage and being presented with the award. 
"I was very surprised because I didn't expect to win an award and it was very cool," Tozlian said. "Standing up there was kind of weird, the lights were really bright so I could barely see anything."
Also during the night, seven graduating seniors were recognized for their membership in the choral program. 
To read more from The Feather, go to Photo Reflection: Natalie Garcia or Senior Chapel.