Fresno Christian alumna Elise Bessey was pleasantly surprised during her senior year when she received a box of gourmet cookies with the word "Prom?" elegantly etched onto them with icing. 
Today, cookie specialty stores are popping up almost everywhere, offering a delightful alternative to the conventional gift of flowers. A local rivalry has begun between the small family business Crave, and the national chain Crumbl. With an ever-expanding selection of delectable flavors, the question arises: Which one to select?
Cookie stores are typically known for their efficiency and speedy service, making them ideal for quick pickups. For an even faster service, many cookie shops have incorporated drive-thru options. 
These establishments don't offer seating for customers to linger and socialize. If someone desires to enjoy cookies and quality time with friends, the best approach is to grab the baked goods from the store and find a more suitable location to hang out.
History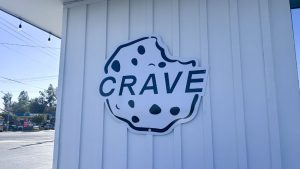 Crave originated in the Central Valley with a cherished family recipe, and is now experiencing rapid expansion. Crave prides itself on its commitment to "hyper-efficiency" and a strong dedication to exceptional customer service (as stated by Crave themselves on their website). 
This thriving business is led by a dynamic brother and sister duo. What initially began as a mobile and online delivery service has now evolved to include physical storefronts scattered throughout the Central Valley.
Crave is known for its top-selling Chocolate Chip Cookies, loved for their crispy outer layer and soft, warm center. Additionally, they regularly unveil new flavors every Friday, keeping their customers excited about fresh options.
Crumbl, a cookie chain founded in Utah in 2017 by cousins Sawyer Hemsley and Jason McGowan, has expanded its reach to both the United States and Canada. Embarking on a mission to craft the ultimate chocolate chip cookie recipe, their cookie venture quickly gained popularity. Crumbl is now known for its weekly introduction of new and exciting flavors announcing the fun new weekly flavors every Sunday. This unique selling point lies in the fun and creative flavor profiles and presentations of their cookies, with some even resembling miniature pies and other baked goods.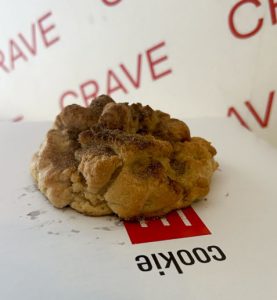 Crave
Crave wowed us with their fast service. As soon as our order was placed, we were served. We felt like they had it prepared and waiting for us, right out of the oven! Crave also offered local Rosa Brothers Milk in multiple flavors. 
Crumbl
Crumbl has a beautiful aesthetic that invites its customers to enter the store. Crumbl Founder and CEO Jason McGowan wants his baked goods "to bring friends and family together over a box of the best cookies in the world." They strive to have new and fun flavors released weekly to keep their customers interested. Crumbl offers a new spin on this dessert even making it similar to pies and other flavors but in the form of a cookie. 
Some might argue that these two establishments are essentially selling oversized sugary cookies, and seeing no difference. Both Crave and Crumbl have several striking similarities. For instance, they offer their cookies at a price point of $25 for a half-dozen and an average of $4 a cookie. They both also generate excitement with their weekly new flavor announcements. Furthermore, they excel in presentation and provide swift and easily-accessible service, whether it's for delivery or pickup. While they appear quite similar, there are some differences.
Crumbl agreed with such claims. They even went so far as to file a lawsuit against Crave cookies, asserting that Crave's packaging and logo had a striking resemblance to theirs and implied an attempt to capitalize on their brand. This legal dispute concluded with Crumbl dropping their claims against Crave.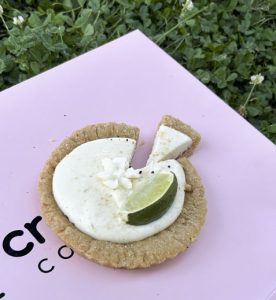 Crumbl and Crave cookie stores are well aware of the delicious yet calorie-rich nature of their product. They advise their customers to enjoy only a quarter of their cookies at a time. This recommendation is especially pertinent for their famous Chocolate Chip Cookies, which can range from 600 to 800 calories per serving. 
The most calorific option, the Chocolate Peanut Butter cookie, packs a whopping 800 calories, nearly fulfilling one's entire daily nutritional intake in a single treat. Even a modest quarter of their cookie can contain 180 calories. 
To put this into perspective, the Cleveland Clinic suggests that an average adult should consume approximately 2,400 calories daily. This means that 800 calories from a single cookie constitute about a third of an adult's daily intake.
The Feather took a team of five students to the two establishments. This team included, photographer Benson Elbert, '26, student Jacob Christensen, '26, data analyst Gabe DeSimone, '26, and videographer Marin Beasley, '26. We collectively preferred Crumbl. At Crumbl, we were warmly welcomed by the appealing ambiance and friendly staff. Unlike Crave, Crumbl's establishment was more spacious, allowing us to witness the entire baking process firsthand.
Crumbl impressed us with its efficient organization, offering a variety of payment options such as online, pickup, delivery, kiosks, or in-person payments. The Crumbl cookies left a lasting impression with their delightful, light frosting and slightly warm texture. They were more enjoyable than those at Crave, and the presentation was truly appealing, adding to the overall experience.
My Opinion
My team and I decided to visit the cookie shops closest to our school and noticed some significant differences. Crave was located in a somewhat rundown area, surrounded by smoke shops and gas stations. In contrast, Crumbl was situated within a small food court. 
Crumbl's environment felt serene, tidy, and welcoming, making it an ideal spot for a group of friends to enjoy cookies after a meal at one of the nearby eateries. On the other hand, the Crave shop lacked walkable attractions, making it more of a quick-stop-and-go establishment. In contrast, Crumbl seemed to encourage patrons to linger, with parks and other forms of entertainment nearby, creating a more inviting atmosphere for extended stays.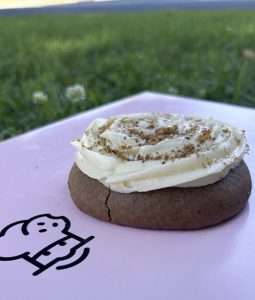 While I did find the Chocolate Chip Cookie at Crave slightly more to my liking due to its unique combination of gooey inside and crunchy exterior, my overall preference leans toward Crumbl. Crumbl exceeded my expectations. 
One of my major letdowns at Crave was the inconsistency between their website and what was available in person; many of the cookies listed online were missing in-store. Moreover, I was disappointed by the disparity between their website's claims of prioritizing customer service and the unwelcoming atmosphere I encountered as a paying customer. 
During my visit to Crave, the employees were predominantly in the back, leaving the front of the shop unattended. This resulted in customers having to ring a bell every time they entered the shop, which felt inconvenient. 
However, at the end of the day, both places are calorie-packed and sugar-filled.
Sophomore Georgia Karlson disagrees and highly recommends people go to both places. "Cookies are cookies, right?" she says since she enjoys both Crave and Crumbl.
What is your personal favorite of the two? Let us know in the poll down below!
Which cookie do YOU prefer?
Sorry, there was an error loading this poll.
To read more from The Feather, visit "Food Review: Alchemist Coffee Lab" and "Food Review: Trader Joe's Christmas collection"
Visit more reviews on our A&E Page.