AI, AR, and autonomous cars transform our lives constantly through their endless development. New AR technology is connecting reality and fantasy, Autonomous cars are getting even more powerful, and AI are being expanded into many fields with both great and terrible impacts.
AR is a rapidly advancing technology with big companies already entering the space. Apple is a recent example of this. The WWDC (Worldwide Developers Conference) was recently hosted by Apple in which they revealed their AR headset, the Apple Vision Pro, set for release in 2024.
This headset revolutionizes AR by immersing the user in a digitally enhanced world while not entirely removing them from the environment. This is accomplished by a variety of features including the ability for people to see the user. The headset is also improved by the ability to control everything with a person's hands, a vast improvement over VR headsets' clunky remote controls.
Another amazing feature of the Apple Vision Pro is the ability to transform the environment around the user to help them focus, changing a crowded space into a calming beach. This headset does have competition in the Meta Quest Pro.
"It's Apple's first attempt and not all app developers will want to convert their apps to AR," Jamison McMurray, '25, said, "Although Apple seems to be more advanced the Meta Quest Pro is out now and the Apple Vision Pro isn't."
The AR world is exciting, but something we already use has just improved.
Autonomous cars have leaped forward in progress as the first SAE(Society of Automotive Engineers) 3 autonomous driving system has been approved in California, the Mercedes-Benz Drive Pilot system, which will revolutionize self-driving cars.
"If implemented properly they could be far safer than conventional cars, and help to lessen the traffic problem in some cities," McMurray said. "People will resist them just as they start to be adopted just like electric cars have been and cars won't be fully self-driving for a while…".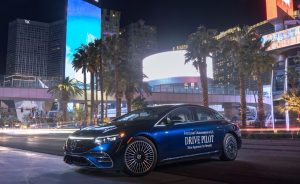 As Jamison mentioned, the Drive Pilot system is SAE 3 meaning the driver is not required to monitor the environment but must be prepared to take control of the car and SAE 4 and 5, some experts believe, could be several decades away. SAE 3 is still an improvement over Tesla's SAE 2 though, meaning the driver must remain fully engaged and monitor the environment when Tesla's autopilot is engaged. As the world of driving changes so does the medical industry through advancements in AI.
AI is changing rapidly and with that comes benefits and downsides. AI is evolving the field of medical technology as it is being created to identify and diagnose diseases to assist healthcare providers, sometimes even before they become obvious by identifying patterns.
"It'll be a much needed improvement from our current 'Dr. Google' that everyone loves to use," Blake James said, a Kaiser Patient Care Coordinator.
One potential issue, however, is that these AIs' datasets are sometimes private which raises concerns about accountability for the diagnoses they make and general AI algorithm transparency.
"Those issues will need to be debated in a consensus across the medical community reached," James said.
AI can also be found in the media, but not for the better as deep fakes are becoming more common and easily accessible to the public, meaning more irresponsible use of AI to slander people. Fake videos are now being created by AI. One example is a video released five months ago by the Republican National Committee about the reelection of Biden and how disastrous they think it would be. This video used AI-generated images to depict cities in chaos, an army at a border, and a financial crash with banks shuttered. As this technology advances, we must be vigilant.
"A convincing deepfake will become more and more readily available in the short future," McMurray said, "So in the coming future, you will have to be very careful in what you believe in…as good deepfakes will be nearly indistinguishable from life."
We must stay vigilant as deepfakes become more and more prevalent.
Besides the looming threat of deepfakes, there are still many encouraging advancements in healthcare because of AI implementation. Autonomous cars are getting better and safer, slowly but surely. Let's also keep an eye on the exciting new technology in the AR and VR world. From these new advancements in technology, both good and bad, we can see that technology is evolving quickly and will only continue to evolve.
To read more features, visit James Webb Telescope furthers science exploration or Food Review: Students favorite Dutch drinks under review.