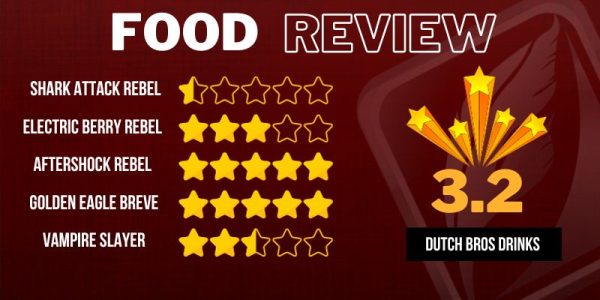 Six minutes away from campus is the brand new Dutch Bros location opened in Fresno, July 19, 2023. Known for caffeinated "pick me ups" and long lines, this local franchise has become a favorite pit stop for teens.  We surveyed 168 students to find out top recommendations for this review. 
Fresno Christians high school students rate their favorite drinks from Dutch Bros. Results concluded with the top drinks being: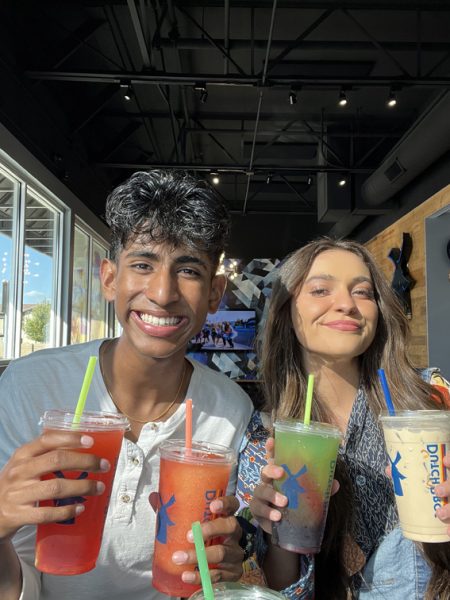 Shark attack rebel – blue raspberry, coconut, lime, with pomegranate float
Electric berry rebel – lime and blue raspberry 
Aftershock rebel – strawberry, blackberry, raspberry, and lime
Golden eagle breve – blended vanilla, caramel breve, with caramel drizzle
Vampire slayer  –  strawberry and pomegranate
Genesis Wilson, Dutch Bros owner mentions top five most popular drinks across all locations. 
"In general, the top 5 most popular drinks that customers order are the Golden Eagle, Vampire Slayer Rebel blended, Picture perfect Freeze, Mocha Freeze, and Iced peach green tea," Wilson said. 
As a regular supporter and FCS family, the Wilsons continue expanding their operations launching their 11th location within  the Dutch franchise. Located 1.6 miles from school, 865 N. Willow features a storefront with plenty of room.
Brent Wilson started with the company about 19 years ago, growing up in Grant Pass, OR where the company originated. Brent's wife, Genesis Wilson gives insight about the timing process of opening their new location in Fresno. 
"From the time we were able to get into the building and start our own work, it took us about 6 months to complete our improvements and open the shop for business," Genesis Wilson said.
The Wilson family plans on opening more locations in the near future, mentioning some were already in the works. 
Feather journalist Sanjay Stephen, '24, heads to Dutch Bros newest location with friend Maddie Gallegos, '24, to sample the drinks that had the highest poll response from FCS high schoolers.
Shark attack rebel – Too sweet, overpowering, and half of the drink felt like pure syrup.
Vampire slayer  – Extremely sour and was hard to enjoy.  
Golden eagle breve –   Light coffee drink with the perfect amount of caramel flavor.   
Aftershock rebel – refreshing, with a perfect balance of sweet and sour.
Electric berry rebel – Didn't have a definitive flavor making the drink just taste sweet. 
Sanjay and Maddie enjoyed the friendly service and exceptional efficiency from when they ordered, to the time they received their drinks. The interior of the building was pristine with aesthetic details and inviting furniture accommodations.
Video review: Created and edited by Sanjay Stephen
Check out the new location, and tell us which drink is your favorite. 
To read more from The Feather, visit: Food Review: Crave vs. Crumbl or New teachers welcomed for 2023-24 school year
To see more reviews visit our A&E page.