The Fresno Christian community continued to grow over the summer and welcomes 45 new middle school and high school students and staff members for the 2023-24 school year. Brian Butler, the new English and Bible teacher, and Savaunah Unzueta, the new physical education teacher and varsity assistant cheer coach, are among those new to the FC family.
Brian Butler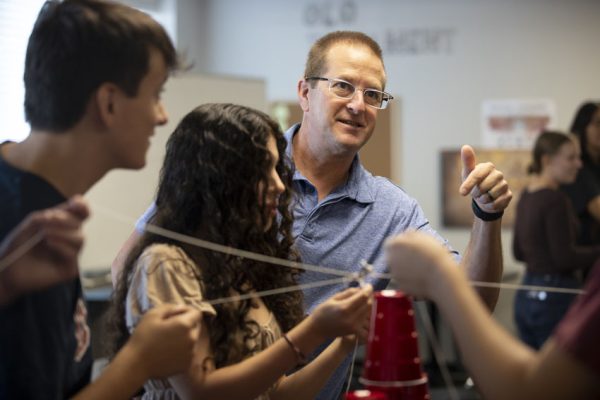 Brian Butler, new to the FC community, brings with him four years of teaching experience at Hume Lake Charter School. 
Making the move from Hume Lake, a special place to many at Fresno Christian Schools, Butler brought along with him his wife Kerri Butler and his youngest daughter of three, Chloe Butler, '25, while his two older daughters attend college.  
Before the family officially moved to the valley, they were familiar with the people and the places. They frequently made the windy drive from the mountains to the valley for their groceries and other necessities. 
"Over the years Fresno has really become part of our home," said Butler. "It feels like our home. We've developed a real love for how the people are in the Central Valley."  
Butler initially began his career as a teacher, leaving behind his previous job as a house painter. While painting homes, Butler listened to theological podcasts, among his favorites the Reformed Theological Seminary. 
"The more I got into podcasts, the more I enjoyed learning," Butler explained. "It opened the world of education for me that I haven't considered since I had been in high school, which was 30 plus years ago." 
As Butler's love for education and the Bible grew, God opened doors for him to teach. 
In his classroom this year, Butler will teach 106 students compared to his class of 30 back in Hume. Despite his increased student pool, Butler aims to establish an engaging environment that will nurture his students' curiosity and love of learning.
Stop by Room 604 to welcome Butler to the FCS family.
10 Questions with Brian Butler
What is your favorite food?

A tie between classic Italian pizza from Mountain Mikes and bacon avocado burgers.

Top 4 items on your bucket list?

Learn to golf
Hit every baseball stadium
Go to Europe
Skydiving (maybe)

Favorite place to travel to?

Scottsdale, Arizona.

"We go there every spring because baseball minor league plays there. The foods really good. Lots of stuff to do. It's just a really fun place."

Left or Right Handed?

Right handed but swings a bat and golf club left-handed and kicks left footed.

Top 2 Pet Peeves:

Indifference drives him crazy
Impatience

All-time favorite TV series:

What was the weirdest habit you had as a child?

He could only eat baloney if it was fried. He claims he hasn't fell back into his old habits in a while.

Would you survive a zombie apocalypse? How?

Yes, put all his efforts in a defendable space with spiky fences. He's also a little brother so he knows how to fight a little dirty.

"They dont stand a chance."
Savaunah Unzueta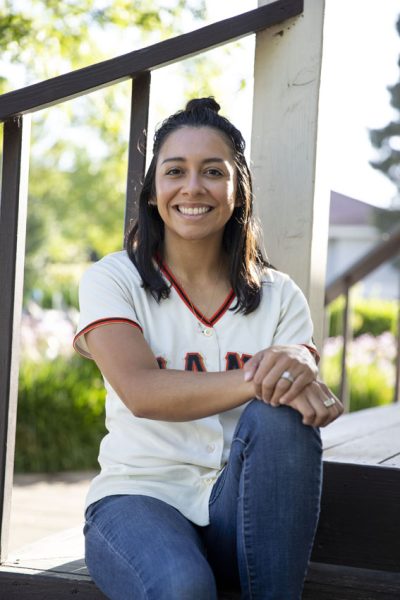 Savaunah Unzueta is the new physical education teacher and assistant cheer coach helping Hope Villines with middle school and high school cheerleaders and middle schoolers for P.E. 
Unzueta starting the cheer life at six years old, shares a deep love for cheerleading and aims to spread that love to her cheerleaders.
"This year I told [the team] I really want them to think of a goal that they have to really push themselves, to become better individually and as a team," Unzueta said.
Unzueta and Villines remind their cheerleaders to "Be strong and do not give up" (2 Chronicles 15:7) and those who look on the Lord "shall mount up with wings as eagles" (Isaiah 40:31).   
After cheerleading for 12 years, Unzueta decided to continue her cheer career at California State University and Fresno City College, where she met Villines.
"I got to kinda become her second mom," Villines said. "My family became her Fresno family."
Unzueta became a big part of the Villines family, sharing jokes, food, and quality time as she babysat the Villines kids for four years. Villines even introduced Unzueta to her husband, Mark. The couple has two daughters.
Unzueta is excited to be welcomed into the FCS family and can't wait for her daughters, Emma and Addie, to be a part of the community as well.
To meet Savaunah Unzueta come to the next home FC football game, Sept. 22, kickoff at 7 p.m.
10 Questions with Savaunah Unzueta
What is your favorite Food?

What your top 3 things on your bucket list?

1. Hike Half Dome at Yosemite

2.Hike the Narrows at Zion

3.Go to Disneyland in another country.

What is your spirit animal?

A sloth because they are really chill, laid back and could nap at any point in the day.

Do you have any pets?

Yes, a doberman named Charlie and a 15 year old cat named William.

What are you favorite places you have traveled?

What is your most used phrase?

What is your pet peeve?

When people ask for a bite of her food.

Do you have any nicknames?

What is your favorite movie or tv show?

What was the weirdest habit you had as a child?

Eating Kraft cheese slices by itself.
To read more from The Feather visit, 2022-23 Year In Review, or College Corner: Upcoming college fairs 2023