2023 College fair opportunities for FCS students
As the school year begins so does the college planning process for seniors. College searching, letters of recommendations, scholarships, application workshops, are only some of the few items out of many that seniors have to balance as they decide which universities they plan to apply to after high school. 
College fairs are a great opportunity for students to connect with a variety of college representatives and ambassadors regarding the school's programs and the opportunities they offer for prospective students. For students at Fresno Christian High School, they have three college fairs this fall they are able to take advantage of and attend with their parents which is highly recommended. Below are three upcoming events to check out. 
No. 1
The first college fair is the Fresno Area College Night which is held on Wednesday, September 13, from 6pm-8pm. It'll be located in Downtown Fresno at the Fresno Convention Center Exhibit Hall. The address of this location is 848 M Street, Fresno, California 93721.
Students attending the Fresno Area College Night will find that all the UCs, CSUs, private schools, vocational programs, community colleges, and so much more will be available for students to receive information and resources. 
[media-credit name="Feather Staff" align="alignright" width="464″]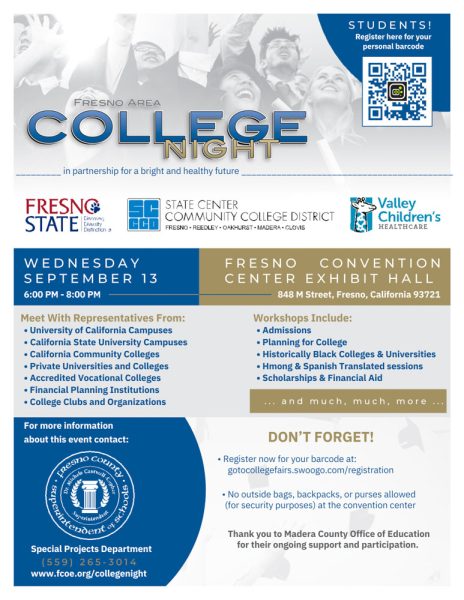 [/media-credit]
No. 2
The next event to take place that is open to Fresno Christian students and the public is the NACCAP Fair. This North American Coalition for Christian Admissions Professionals event is geared towards students and families who are primarily interested in Christian Universities. Numerous colleges from across California and the country will be together for one night only to answer questions from students and parents.
This event will take place on Tuesday, October 3rd, from 6pm-8pm in the Peoples Church Gym.
Represented schools:
California Baptist University
Concordia University Irvine
Fresno Pacific University
Hope International University
Northwest Nazarene University
Olivet Nazarene University
Point Loma Nazarene University
Providence Christian College
Trinity Christian College
Trinity Western University
No. 3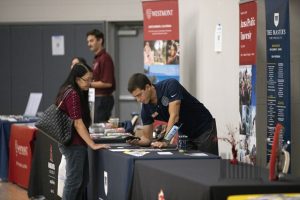 The last college fair for Fresno Christian students to attend is the FCS Lunch College/Career fair that is hosted on our campus. It'll be during lunch in the courtyard on Tuesday, October 3rd. This fair will consist of community colleges, Fresno Pacific, Grand Canyon University, members of the military, Hume Lake's Joshua program, and so much more. 
It's important to host events on campus for students who are not able to attend off campus college fairs but are still highly interested to learn about the many post high school options. This lunch fair is open to high school and middle school students since it is never too early to look into colleges.
Great questions to ask of potential schools
What makes your school unique?
What are the out of state fees?
What programs are your school known for?
What suggestions do you have for the enrollment process
For more from College Corner read Academic advisor shares advice for seniors and juniors.
To read more blogs visit The Feather Opinions page.