A gust of wind shakes the window panes as you slowly trek down a creaky and dark hallway. You walk alone. At least you think you're alone.
The lights start to flicker, and you can make out faint silhouettes. These are far from human; even those that resemble humans are missing limbs and appear zombie-like, slowly rotting away.
The lights disappear, and you're in the darkness. You're definitely not alone. Only when all the lights flash, and you lock eyes with the creatures do you feel the need to run, knowing they're right on your heels.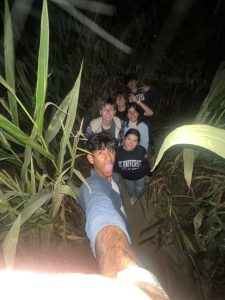 As the "spooky" month of October is in full swing, many students are seeking exhilarating activities. While classic pumpkin carvings and traditional fall movie-watching are enjoyable, sometimes a dose of adrenaline is desired. Haunted attractions have become increasingly popular throughout the Central Valley, offering thrilling jump scares and engaging storylines. These places reinvent their scares and spooks each year, making them unpredictable for seasoned adrenaline junkies. As these attractions gain more popularity during the season, it leaves many wondering which one to visit or which offers the biggest and best scares this Halloween season.
What is a haunted attraction?
Halloween entertainment is all about delivering a quick scare. These attractions typically last for a maximum of thirty minutes. However, the actual duration may vary based on the visitor's choice—some might close their eyes and sprint through it, while others nervously walkthrough. 
These attractions are often located in more rural places with open spaces, like Sanger and Madera. You might encounter a haunted house equipped with special effects and spooky actors, or venture into an overgrown corn maze filled with sinister surprises at every turn. A popular feature is the chainsaw run, where visitors find themselves running from actors wielding chainsaws, adding to the adrenaline rush.
These attractions boast short lines and delivering maximum thrill time. They often offer concessions for those who prefer to wait in the courtyard while their brave friends explore the spooky night. Overall, this type of entertainment is perfect for a late Friday or weekend night!
Hobb's Grove
Upon entering Hobbs Grove in Sanger, you'll be embraced by a captivating autumn ambiance with enchanting fairy lights and cute pumpkins adorning every corner. However, as you step further, you may find something more sinister as your shoulder is touched by an unexpected presence—a zombie pirate, perhaps? As you move forward, the eerie silhouette of Hobbs Haunted Mansion comes into sight.
Hobbs Grove, a beloved family-owned establishment, operates from the end of September through October 29, ending on Halloween's Eve. During this period, they offer a trio of spine-tingling attractions: the Haunted Forest, the Haunted House, and the Haunted Hayride. These hair-raising experiences are available from Thursdays to Sundays throughout the season, all guided by the promise on their web site: 
"OUR family sincerely enjoys frightening YOUR family year after year after year after year!" Hobbs Grove has earned much recognition in the world of haunted attractions, securing a place in the Haunted Attraction Magazine's list of America's Top 25 Must-See Haunts. Their chilling performances have also been featured on various television segments, including MTV and MSNBC.com. Notably, they've made it onto Forbes.com's Top 10 Haunts. Furthermore, USA Today has ranked Hobb's Grove as the third-best haunt in the nation. This esteemed recognition has led to Hobbs Grove being officially designated as one of "America's Favorite Haunted Attractions," and they've proudly received the Board of Directors Award from the Haunted Attraction Association. What's even better… it's only a short drive away from campus and it's scarily fun with a group of friends!
View this post on Instagram
Raisin Hell Ranch
"We are the SCARIEST HAUNT in the valley!" 
Nestled on the outskirts of Madera, Raisin Hell Ranch sprawls across a tranquil and expansive ranch. Raisin Hell Ranch has earned the prestigious distinction of being voted as Central Valley's most spine-chilling haunted attraction. 
The organizers emphasize the intensity of this experience, urging parental discretion, and maintaining a no-refund policy. They recommend an age requirement of 12 years and older. Committed to delivering the ultimate scare, Raisin Hell Ranch values feedback from its patrons and continually strives to enhance its offerings, year after year. 
Owner Darren Schmall, declared last year, 'It was our largest off-season upgrade ever.' According to him, 'Every scare has been made to be more extreme, more terrifying, and more intense.' Raisin Hell Ranch offers two distinct, themed corn mazes, "Sinister" and "Deadwood," each ramping up the fear factor.
These improvements encompass additional training for the actors and updates to the scare scenes. The concession stands offer budget-friendly and delectable fare served promptly. Customers can relax in the courtyard, which boasts ample seating, restroom facilities, and engaging actors who bring an extra dash of spooky fun to the experience.
Raisin Hell Ranch's mission is to provide a thrilling, distinctive, and hair-raising experience for all its guests!
View this post on Instagram
Differences
These two delightfully spooky attractions share many similarities in terms of the fun they offer, but they also boast their own unique differences. 
Hobbs Grove wraps up its scare on October 29, just before the Halloween festivities kick in. Raisin Hell Ranch remains open through Halloween night, allowing visitors to celebrate the holiday in style. 
Each destination boasts a distinct set of attractions. Hobbs Grove offers the Haunted House, the Haunted Forest, and the Haunted Hayride, each promising its own thrilling experience. On the other hand, Raisin Hell Ranch specializes in a multitude of haunted corn mazes that challenge and entertain. Raisin Hell Ranch also features themed pop culture mazes where visitors can experience being pursued by their beloved horror icons alongside unique original characters.
Both locations promise a wealth of fun and spine-tingling experiences, and when combined, they offer the complete spooky Central Valley experience.
Students at Hobbs Grove
In October, Junior Owen Gainer had an exciting outing to Hobb's Grove with a group of friends. Gainer offered enthusiasm about going back.
"Absolutely! It offered a safe and enjoyable experience, and I had a blast with the jump scares. There were moments when I found myself running… maybe."
Gainer did acknowledge that the lines for the haunted house were excessively long upon their arrival, though the hay ride line was relatively short. It took Gainer and his group slightly over an hour to traverse the haunted house queue, which he described as excruciatingly slow.
He admitted that there were instances where it was genuinely frightening, but there were other times when he felt it could use some improvements. He did appreciate the well-timed jump scares that occurred roughly every 30 seconds as they ventured through the venue. Despite the wait, you can certainly count on finding Gainer at Hobbs again next year!
Students at Raisin Hell Ranch
Some campus students ventured to Madera and experienced the fun and frights at Raisin Hell. However, one particularly fearless student failed to discern any notable distinction between Hobb's and Raisin Hell. 
"They're essentially identical," Senior Aribella Dimmer said.
She found the experience entertaining, but the clowns chasing her truly spooked her. She enthusiastically expressed her desire to return for another thrilling visit.
Raisin Hell is so popular that tickets needed to be bought online, and fast passes are heavily recommended. Despite the popularity of the place, there was enough seating for all.
Heavy security and guards patrolled to ensure that as the visitors walked through the mazes the only impending danger was the jump scares from actors.
Similarities
Hobbs Grove and Raisin Hell Ranch offer an abundance of thrilling scares and memorable experiences. As guests arrive at both venues, they are welcomed by the warm, rustic glow of yellow bulb lights, setting the eerie tone.
Both locations provide comfortable and inviting waiting lounges, albeit with the occasional surprise encounter with spooky actors. In the courtyards of these attractions, visitors have access to a variety of refreshment options, allowing them to savor delicious, hot food and drinks, often served promptly.
Ticket prices between the two venues are quite comparable, with no significant disparities. Combo tickets, which grant access to all attractions, are similarly priced, averaging around $45-50. Both Hobbs Grove and Raisin Hell Ranch guarantee a spine-tingling experience that will leave you with a good scare, plenty of screams, and perhaps a lingering sense of unease throughout this haunting season.
My Hot Take
I had the opportunity to visit both locations with some of the students on campus, and I thoroughly enjoyed my time at both. Raisin Hell Ranch was a delightful surprise, offering a unique and exciting experience. The transformation of a corn maze into a spooky adventure was creatively executed. With actors lurking around every corner and convincing special effects, it felt incredibly immersive.
Hobbs Grove, on the other hand, was equally spine-tingling. The sense of unease with each turn only added to the excitement.
Both places provided a good dose of fright, while still ensuring safety and quick scares. I wholeheartedly recommend these attractions to fellow students seeking some thrilling fall fun.
Student Choice Alternatives
While many students find thrills and chills enjoyable, some prefer a different flavor for their fall Friday nights. The "spooky season" offers not only quick scares but also the opportunity to cozy up with a warm cup of coffee and a good book. There are numerous alternative activities that are just as entertaining, tending to be more lighthearted and innocent in nature. 
For more details, you can explore the Fresno Fall Fun Article.
Like these fun suggestions? To read more reviews visit Crave VS Crumbl or Music Review: Olivia Rodrigo
To view more from the A&E page.
Location
Hobbs: 14265 E Goodfellow Ave, Sanger, CA 93657
Raisin Hell Ranch: 7409 Rd 32, Madera, CA 93637