"Lights, Camera, Homecoming," Fresno Christian's 38th annual homecoming week has officially begun! The energetic week culminates October 27 with the FC Eagles facing the Orcutt Spartans. The week leading up to the big game and debut of the 2023 homecoming court will be filled with glamorous dress-up themes, competitive princess games, and a royal dance battle. 
As excitement for Homecoming week grows, leadership continues to prepare for the thrilling and hectic spirit week. Day two kicks off with students showing up "twinning" for
Parent Trap Tuesday, Oct. 24. Students and staff wear their best matching outfits with their twin of choice.
Blake Bridges, '24, who is a part of FC Leadership, enjoys the challenges and achievements that 2023's Homecoming has instigated. Bridges is an actual twin who dressed up with his sister, Madison Bridges.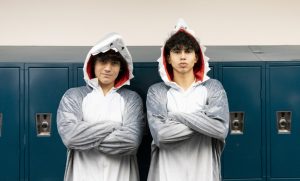 "Homecoming's biggest challenge so far has been the postponement of the football games and Homecoming week," said Blake Bridges. "With this being my last year, I love continuing to make memories with my classmates and seeing the rest of  student participation during dress-up week." 
Princess Pageant: Castle Crashers 
Student leadership will set up lunch activities indoors and outdoors for the duration of homecoming week. Today princess candidates battled for bragging rights in a game of Castle Crashers. 
Castle Crashers is a game where candidates wear inflatable plastic bubbles and attempt to knock over their opponent's "castles," while also aiming to protect their own. The game continues until there is only one "castle" left standing. Sarah Guglielmana, '26, bested her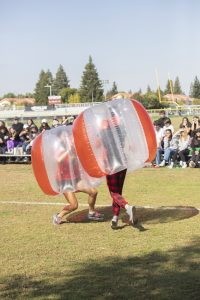 fellow candidates, defeating Addyson Adler, '25, and Anna Pascual, '27, in the Castle Crashers finals. 
"Personally, I thought I was going to lose," Guglielmana said. "I was really excited! It was kind of embarrassing, but I'm glad to have played and won. It was exciting but stressful!"
Sophomore Float
To go along with homecoming's Hollywood theme, students were tasked with designing floats featuring a movie of the class' choice. This year's sophomores voted to build a Batman-themed float. James Emerian, '26, offered up his backyard as a construction zone for the past few weeks as the class designed, built, and decorated their float. 
Caleb Eldridge, '26, a member of the sophomore float building committee sacrificed many hours of free time to commit to preparing the class float.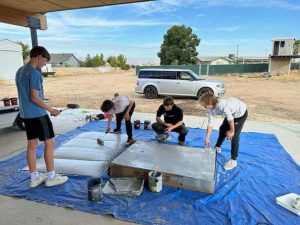 "I'm so excited to see the finished product," Eldridge said. "My favorite part so far has been day by day seeing [the float] grow and come together into what we imagined it to be."
To see what the Freshman class has been up to read 2023 Homecoming day one recap. 
Tomorrow's activities include:
James Bond vs Legally Blonde

Senior princess pageant 
To read more from the Feather visit 2023 Homecoming day one recap and James Webb Telescope furthers science exploration