Student leadership is a crucial part of campus life at Fresno Christian High School. Whether they are running student competitions at football games, hosting lunches or planning the year's biggest events such as Sadies and Homecoming, it's evident they are memory makers. After the leave of previous leadership teacher Aubri Foster, the team has gained Hope Villines alongside Robert Foshee. ASB officers consist of the president, vice president, secretary, treasurer, activities directors, and chaplain. This year's ASB officers were appointed by leadership teachers and administration.  
2023-24 ASB officers: 
President –  Paige Deffenbacher 
Vice President – Mackenzie Sue 
Secretary – Natalie Sullivan  
Treasurer – Blake Bridges 
Activities Director – Jacob Wyatt 
Chaplain – Chloe McDonald 
Hospitality Coordinator – Kemya Hopkins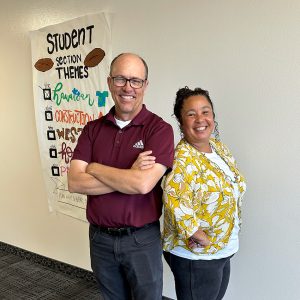 Hope Villines leans into her new position with an enthusiastic outlook on the year ahead.
" Being able to pour into students individually is what I'm most excited about," Villines said. " I love this new role I've been put in, getting to know students on a one-on-one level." 
Building on the foundation set before her, Villines hopes to impact heart change in this year's team.
"I think it's called leadership for a reason and my number one goal is to teach our leadership students to lead with a servant's heart," Villines said. "I also wanna teach them how to communicate with their peers whether they're in their friend group or not. "
Fall season is underway and below are leadership events throughout the month to look forward to.
Upcoming Leadership Events
Sept. 22 – Home football game 
Sept. 24-25 – Senior Retreat 
Oct. 9-13 – Homecoming 
Oct. 27 – Football and Cheer Senior Night 
Oct.31 – Fall sports rally 
Nov. 10 –  Sadies 
Dec. 15 – Stuffed Animal Drive
We hope you take part in fall leadership events this year. 
To read more from The Feather visit; 2022-23 Year In Review  or Senior Sunrise 2023