With an all-senior worship team, the student body were led in worship with Egypt, Waymaker, Another in the Fire, Reckless Love and Psalm 23.
Seniors Trinity Cox and Max Morgan shared a message that was put on their hearts. Cox spoke on facing fear and anxiety and reminds us in Philippians 4:6-9 that the Lord walks with us through our trials. Morgan gave us a new perspective in Psalms 23 and showed how God is faithful to instill confidence in us. 
Special guest Trevor Morgan performs an original arrangement, Psalm 23, alongside his son Max Morgan, on the cajon.
Cox and Morgan describe the feeling of performing and speaking during senior chapel.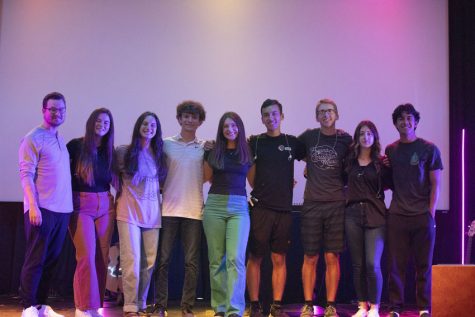 "Honestly the first feeling was immediate fear and I got nervous just at the thought of speaking on stage," Cox said. "The main takeaway from my message is that God's word is applicable in every area of your life and in every situation. Give Him your troubles with full faith in Him and He will give you peace and walk with you the whole way." 
"My initial feeling was one of excitement when I was asked to speak. I really looked forward to the opportunity and felt honored to get to share some of my story," Morgan said. "A takeaway from my message is that we can be restored with a confidence that comes from the Lord, as described in Psalm 23. He will consistently be there to comfort and provide in times of either joy or distress. My favorite memory from the worship team this year was getting to play with G, my sister Milly, and my fellow seniors for the last time during senior chapel."
For more feather photos, visit the Feather Media page.