Prior to joining 
I first gained interest in the Feather in seventh grade. Although my meeting with Stobbe was not monumental, it caused me to talk with my eldest brother. I knew very little about the Feather; I only knew that my brother, Juan Gerardo Ruelas, was a videographer at some point.  I inquired about the Feather, and with a jolt of energy, he told me every detail pertaining to his time on the team.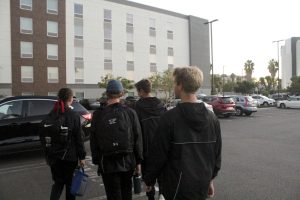 I always looked up to my brother, and when I learned of the skills he gained, I knew I wanted to join. Entering High School, I wanted to finish all my graduation requirements as soon as possible. This in turn caused me to put off joining the Feather. Eventually, I found the time to join the team during my senior year of high school. 
On the team 
Throughout my short time, I developed better writing, photography, videography and analytical skills. These last two semesters, I ran the Instagram account, took videos for Beyond the Scoreboard, wrote ASB Columns quarterly, and took photos of various events.
Running the Instagram account was a challenge at first. I needed to formulate unique captions and ensure I wrote everything in a journalistic style. Due to this need for creativity, my ability to be creative improved – particularly in writing.
Another way my creative ability improved was due to the Beyond the Scoreboard videos. Every week, Nathan Bridges, Mason Meade and I attempted to keep Beyond the Scoreboard feeling fresh. We tried different videography styles, as well as new environments, to keep all the viewers interested.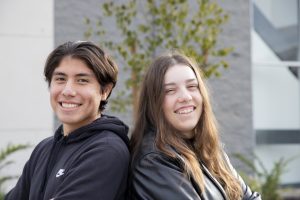 I enjoyed writing the ASB Columns. It allowed me to spread a message to the student body. Writing my first ASB Column took me roughly three weeks to complete. I recall staying up late at night rushing to complete it, feeling uneasy about the quality. In contrast, due to my time on this team, my latest only took three days. Compared to previous articles I have written, I truly feel that this latest column has been my best work so far.
My confidence in the skills I developed came from being a photographer. My only previous experience with a camera was with yearbook and video productions. Whereas these two classes taught me the basics of photography, being a photographer in the Feather required me to learn new photography concepts and skills that were advanced. Throughout my time in this team, my skills as a photographer grew due to the guidance of Mrs. James.
Going into Homecoming in the first couple of weeks, I was nervous, fearing I would not perform well. I pushed on through Homecoming week, meeting all expectations placed on me. This, in turn, made me feel confident in my hard work ethic.
Final thoughts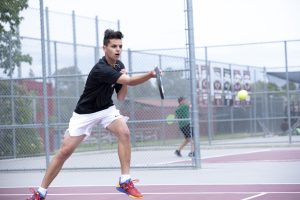 I felt some level of pressure every day to perform in the Feather; due to this, I furthered many abilities and developed new ones. I firmly believe that stress is what develops our characters. Adding a moderate amount of pressure to our lives leads to improvements in ourselves. For the sake of self-improvement, I suggest we take on new challenges.
Two people in particular that I like to thank are Summer Foshee and Emma Calderon. Both these Feather editors took the time to look through my articles while working on their own articles and projects. They taught me all the journalistic essentials I needed. Indeed these two individuals made it easier to be on the team.
In the Fall of 2023, Antonio Ruelas will be attending the University of California Santa Barbara, where he plans to pursue a degree in Physics.
The slideshow below contains some of Ruelas's favorite images throughout his time on the Feather
To read more from The Feather, go to Column: The importance of will or Senior Lifer – Seth Radke.