As the school year draws to a close, 11 track and field athletes prepare for the Division 4 championship meet, May 12. 
Qualifying to compete in the championship held at Central Valley Christian is Meilani Gilmore, '24, Ian Palsgaard, '25, Laina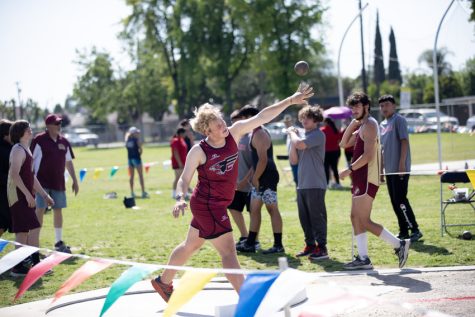 Penland, '25, Bayley Wong, '26, Noah Howard, '24, Nathan Kinabrew, '24, and Chloe Ledieff, '26.
Track is Gilmore's favorite sport to play. She has competed for six years.
"I am excited to compete in the championship, but I am not expecting to win," Gilmore said. "I am hoping for a new personal record to finish my season with."
Gilmore would like to thank her parents, who are also her coaches, Dorina Gilmore-Young and Shawn Young, for always pushing her to do her best and supporting her. 
"I am so thankful for my friends who always ask how my meets went and check in on me," Gilmore said. "As well as my dad in Heaven because he is my inspiration for doing track!"
To support Gilmore and her teammates in the championship, head to CVC in Visalia, May 12.
For more photos, visit the Media page.
For more articles, read Trade schools as a valuable alternative and Column: The importance of will.