[media-credit id="349″ align="aligncenter" width="600″]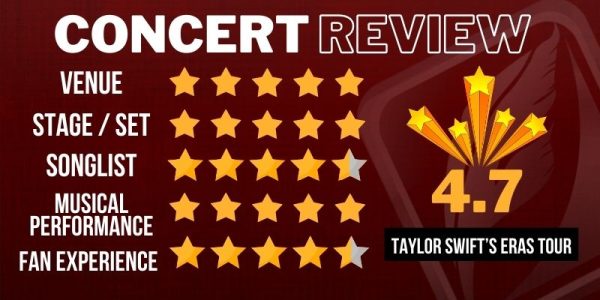 [/media-credit]
It's been a long time coming as Taylor Swift embarks on yet another concert tour, The Eras Tour. However, this time she transports her fans through a journey of her entire musical career. She features songs from nine of her 10 albums, creating a set for each album with different outfits and lighting.
Swift is known for her stadium tours after completing her Reputation tour in 2018. On the first leg of the Eras tour in the US, Swift performed 54 shows at 20 different stadiums all across the country. The Eras Tour began on March 17, 2023 at State Farm Stadium in Glendale, Arizona and finished at Sofi Stadium in Los Angeles on Aug. 9, 2023. The venues she chooses provide a much larger audience for every show and creates a high energy atmosphere. It also gives fans the ability to buy tickets for a variety of prices depending on their desired seat. I would give the venue choice five stars. The space and screens allowed for the ultimate experience, even though my seat was in the nosebleeds.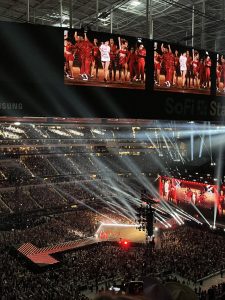 Each time Swift appears on the stage she makes the whole place shimmer. Each set corresponds to an album and a different prop or item that ties it to the songs being performed. During the Evermore set, trees arose from the stage adding to the whimsical ambiance of the lyrics. Another aspect of the stage is the visuals. Images and designs light up the stage creating a picture that adds to the energy of the song and set. This is particularly clear during the 1989 set when dancers ride the length of the stage on bicycles creating light designs beneath them or when a snake visual appears to introduce the Reputation set. The stage and set also deserve five stars. It was perfectly put together and allowed for a magical show. 
Crowds have been enchanted to discover that the set list consisted of 45 songs from nine different albums. The concert opens with her sixth album, Lover. She then performs songs from each of these albums: Fearless, Evermore, Reputation, Speak Now, Red, Folklore, 1989, and Midnights. Swift also performs two surprise songs each night. Swifties have fallen in love with the nightly surprise songs, predicting and hoping for their favorites to be played. I loved every song she performed, however, there were several of my personal favorites that she did not play. For this reason, I would give the songlist four and a half stars. 
View this post on Instagram

Swift's dedication to her fans is clear. Her performances last more than three hours with a few quick costume changes. Each time she emerges from the stage she captivates the stadium's attention. Her performance was a solid five stars. Swift showed incredible endurance and dedication while performing. Ella Slayden, a senior at Fresno Christian High School, talks about her favorite part of the concert. 
"She put on a really good performance. It was really interactive and the light-up bracelets were really cool and fun," Slayden said.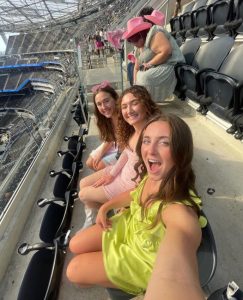 Swift even went as far as announcing two of her re-recorded albums during the tour: Speak Now (Taylor's Version) which released July 7, 2023 and 1989 (Taylor's Version) which will release October 27, 2023. These highly-anticipated albums give fans something new to look forward to in the coming months. 
This event creates a space for Swifties to come together in one place at one time. Thousands of people arrive bejeweled in their best outfits, many wearing outfits inspired by song lyrics or one of Swift's ten eras. Trading friendship bracelets, a nod to Swift's 'You're on Your Own, Kid', is a hit among fans. Delaney Meyers, '26, another FCHS student who attended the concert, explains the age range of fans. 
"I think that anyone who is a Taylor Swift fan would enjoy the show. I think being older I got more out of it because I knew more of the songs but younger kids would enjoy it too. It's a memory I'll never forget," Meyers said. 
The fan experience was one of a kind. The only thing fans struggled with was the ticket-buying process. Fans waited for hours on end in hopes of getting tickets. Many Swifties weren't even able to buy tickets in the original sale and had to buy resale tickets for twice the price. For this reason, I would give the fan experience a four and a half star rating.
This experience is one that people will remember for years to come. Almost every aspect of the concert exceeds the expectations of Swifties. I would say The Eras Tour as a whole deserves four point seven stars in rating. Everything comes together to create a life-altering concert experience. The Eras Tour has taken the nation by storm and continues to as Swift prepares for the international leg of her tour. Along with the re-release of her 1989 album and the newly announced Eras Tour Film coming to select theaters Oct. 13, 2023. 
Did you experience the Eras Tour? Tell us about it by leaving a comment below.
Interested in more concert or music reviews? Visit The Feather A&E page for all your fan interests.
To read more from The Feather visit, Jonas Brothers take the stage after six year hiatus with Happiness Begins Tour  and Kelly Clarkson's Meaning of Life Tour highlights new songs, old hits