The Fresno Christian 2023-24 school year kicks off with the 14th Annual Convocation in the PC Auditorium, Aug. 9. With over 2,000 in attendance, the FC community participates in worship led by the 2023 alumni worship team members.  Principal Amy Deffenbacher welcomes students and families introducing this year's verse, Psalm 67:7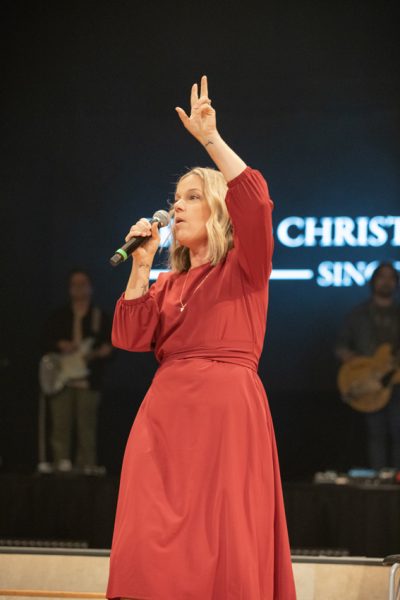 "God shall bless us; let all the ends of the earth fear him!" Deffenbacher also introduced the theme for this year's teaching series in chapels, which will focus on The Beatitudes from Matthew 5:3-12. 
Office manager and parent, Silva Emerian, has not missed one convocation since they began. 
  "If I were to pick a favorite part of convocation, I would say the student lead worship as well as the buzz of excitement in the air around me," Emerian said.
Although Fresno Christian began in 1970, the multiple campuses restricted the school-wide gathering, until 14 years ago when the relocation to Cedar and Herndon brought the FC community onto one campus. 
Lifer Mia Alberta,'24 says "My favorite part of the convocation is getting to see everyone I didn't see over summer for the first time in months."
To read more from The Feather check out Senior Sunrise 2023 or Hurricane Hillary Impacts Fresno residents.
To view more photos visit The Feather Media page.