The echoes of a championship victory continue to resound in the minds of the 2023 Fresno Christian Varsity football team. However, the departure of 14 seniors has created a void in several key positions that must be filled. As they secured their first home game victory, the FC Eagles are determined to defend their championship title throughout the 2023 season.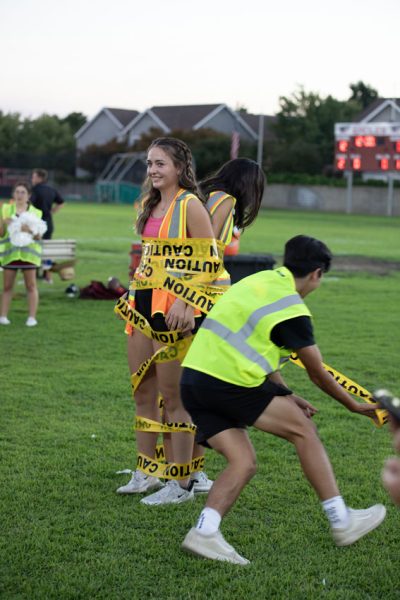 The Student Leadership team is committed to raising enthusiasm within the student section by organizing unique themes for each football game leading up to Homecoming. Additionally, they will be hosting quarterly events aligned with these themes to further boost school spirit. These events often include fun fellowship and good food!
For the inaugural football game of the season, the theme was "Hawaiian" to honor the victims of the devastating Maui wildfires in early August.
Jake Wyatt, an enthusiastic member of the Student Leadership team, took charge of orchestrating a spirited hula-hoop and limbo contest between quarters, ensuring that the energy levels remained high throughout the game.
Upcoming Football Themes 
8/25 FC Under Construction
9/22 Western
10/13 Homecoming
10/27 Pink out (Senior Night)
This year's team is led by Head Coach Mick Fuller, and assistant coaches Tyer Breedlove, '16, Matt Hall, Jarod Ramirez, and Slater Wade, '17.
During the championship last year, the Eagles faced significant adversity and a series of trials that they had to overcome in their pursuit of victory.
"Last season, the championship game was a battle between two fairly evenly matched teams," Fuller said. "Each team had different strengths and advantages over the other. In the flow of the game, it was unclear which would prevail."
The coaches are also dedicated to helping their players overcome mental toughness throughout the season, preparing them to face and overcome the challenges that lie ahead.
"We intentionally place our players in situations where they must endure hardship, pressure, repeated challenges, stretching beyond their comfort zones and discomfort—both metaphorical and physical," Fuller explains. "The true football players are those who undergo this transformation, evolving from being as malleable as iron or water into individuals as resilient as leather."
While many high schoolers relish the leisurely days of summer, the team was diligently putting in the effort to prepare for the upcoming season. They face the demanding task of meeting and exceeding expectations, while striving to maintain peak levels of agility, strength, and endurance.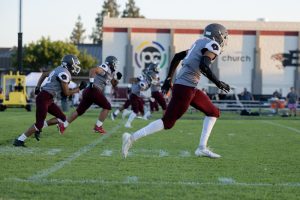 The 2023 FC football team is under the leadership of seasoned seniors Logan Stotts and Jude Shephard, both of whom bring valuable experience as varsity returning starters.
"This season we lack experience, only returning 6 starters, 3 offense, and 3 defense," Fuller says. "Over half of the key positions on both sides of the ball had to be filled by younger players, freshmen in a couple of cases. This means we must expect a steep learning curve and more errors due to lack of knowledge and experience." Fuller said.
With most of the first-string linemen departing, it's a challenging time for the Eagles. However, returning Offensive and Defensive Lineman, Ben Karlson '24 sheds light on the trials the team must conquer to uphold their championship status once again.
Karlson reflects on the team's setbacks- stating, "We faced significant departures across the board. Unfortunately, our returning guard, Luke, suffered an injury, which has forced us to adapt with the resources we currently have."
Tycen Ramirez, a member of the class of '26, has earned his spot as a starter on the field and is eagerly focused on broadening his skill set.
"I want to improve my personal skills and help lead my team to win another championship"
Be sure to mark your calendars and come out to show your support for the FC Eagles at the next home game, scheduled for September 22nd at 7 p.m. We look forward to seeing you there!
For updated scores, schedules and rosters visit the Athletics page. 
FCS Football Schedule
8/25 United Christian Academy  5 p.m./7 p.m.**
9/2 Branson High School 1 p.m.**
9/9 Stuart Hall**
9/16 Riverdale Christian*
9/22 Woodside Priory 5 p.m./7 p.m.** 
9/29 Alpaugh 7 p.m.*
9/30 JV Kern Resource High School
10/7 JV Legacy Christian
10/13 Laton High School 7 p.m.*
10/20 Sierra High School 5 p.m.*
10/27 (Senior Night) Orcutt Academy 6 p.m.*
11/3 Playoffs Quarter-final
11/9  Playoffs Semi-final
11/17 Championships
League*
Non-League**
Home Games In Bold
p.m./p.m. JV and Varsity