Gazing at the wall, hands coated in climbing chalk, Meilani Gilmore Young, '24,  contemplates her choice of climbing for the day. Metalmark Rock Climbing boasts an impressive array of more than 80 diverse climb routes, spanning the spectrum from top-roping to bouldering, offering a challenge for every student.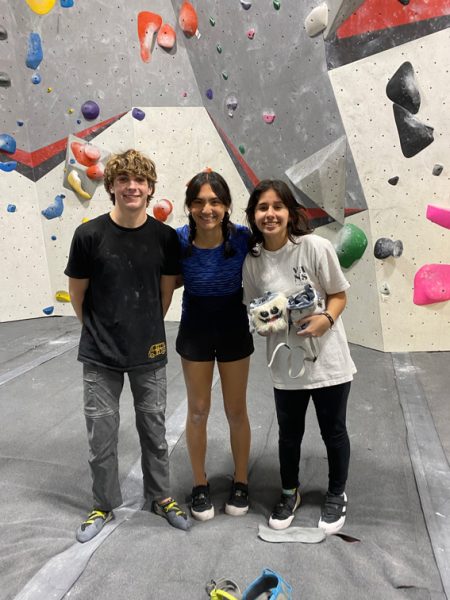 Nestled at the intersection of Cedar and Ashlan, Metalmark was established by Touchstone Climbing in 2011 with the goal of being a premier climbing gym. Entering into the gym, climbers are met with 48-foot high walls with windows top to bottom to let natural light flood the gym.
At the welcoming front desk, a team of friendly staff members is ready to assist you with all your climbing needs, whether you want to chit-chat for a little while or if you need to get your climbing shoes.  You will need to sign a waiver you can find on their website or in person.
As you journey deeper into the gym, you'll find a wide variety of climbing courses, there are more than 80 different bouldering solutions. Whether you are climbing for fun or projecting your next personnel best, there is something for all levels of climbers. If you want to keep climbing and climbing, you can try top-roping on their 48-foot wall, which means climbing with a harness, of course.
The gym provides a fully-equipped workout area with state-of-the-art machinery to supplement your fitness routine. You'll also find conveniently placed water fountains and water refill stations, ensuring you stay hydrated throughout your visit. 
One striking feature of this gym is its exceptional cleanliness and maintenance. The temperature is perfectly regulated for comfort, creating an inviting atmosphere for climbers of all levels. What's more, you'll have the option to stay even longer, as the gym offers a selection of snacks and drinks for purchase.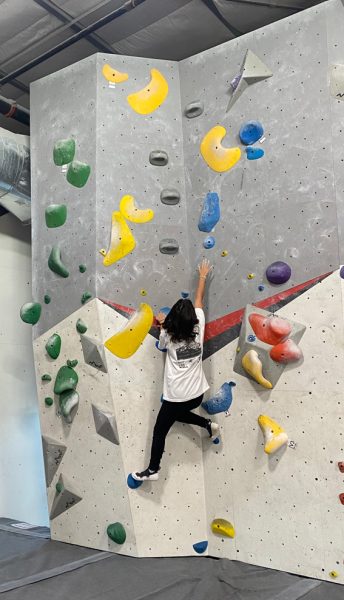 Chloe McDonald, '24, hits the wall for the first time and shares her thoughts on the new experience.
"What struck me the most was the realization that rock climbing is, in fact, a form of art," McDonald said, "I had previously assumed it was an easy endeavor, but I soon discovered just how much physical and mental strength it demands. Nevertheless, I found the high climbs to be an absolute delight."
A day pass at Metalmark costs $30; rentals are $4 additional for shoes and $2 for a harness. All other rentals (harness, shoes, and belay device together) costs $5. A membership to Metalmark itself is $72 a month but a membership to all Touchstone gyms is $82. The first-time fee is generally $100 as well. Watch for special deals on social media.
As a first-time climber, Gilmore Young wasn't sure what to expect.  
"I really enjoyed the experience!" Gilmore Young said. "Rock climbing was something I've always wanted to get into, so this was a good introduction to it.''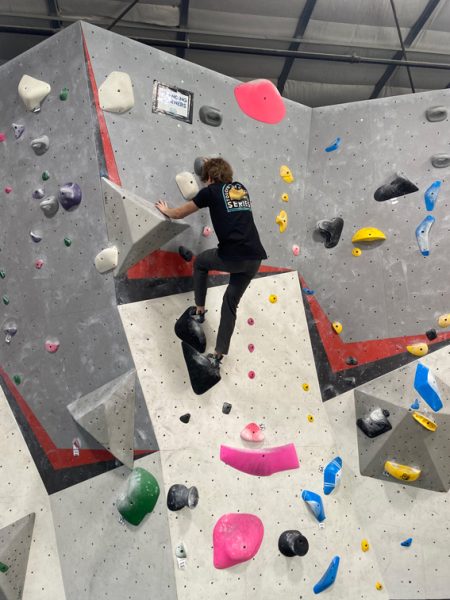 My Opinion
Now that I am a member at Metalmark, I climb 3 to 4 times a week. The staff is always friendly, and the community is extremely welcoming. I've been climbing for only two months and have made good many friends in the climbing gym. Another thing I like about the climbing gym is how little I am on my phone its really a good place to just disconnect from the online world and spend that time talking to my friends and strangers around the gym. The membership is a little pricey, but in the long run it is totally worth it for me. Also, if you plan on continuing to climb, climbing shoes are an absolute game changer.
Climbing provides mental and physical challenges and a great way to spend time with friends or if you want to get a good full-body workout. Metalmark has an amazing staff and a strong community built around the hobby itself.
To read more from The Feather Online visit, Changes around campus or Mic'd Up No.3-Western Night
Video filmed and edited by: Meilani Gilmore Young.