Sophomore Matthew Tacchino hopes to bring the students of Fresno Christian meaningful conversations with students and staff members in a reoccurring podcast series called EagleCast. Covering issues most teens deal with today along with seeking wisdom and deeper understanding from those who have traversed these roads before. Hope you enjoy this Feather podcast series. 
Scott Falk, current Bible teacher and Vice Principal at Fresno Christian  has literally worn many hats on campus as depicted by his hat rack sitting in his office. Falk has been a dedicated member of the FC community for almost 21 years, where he imparts his wise knowledge of Christian Living and being a comforting go to person on campus.
When asked about how students can stay close to God during hard times, Falk said," Just find one person. One person to be your rock." In this episode, Falk elucidates various ways in which students can maintain a close connection with God, drawing on examples from both his personal experiences and life journey.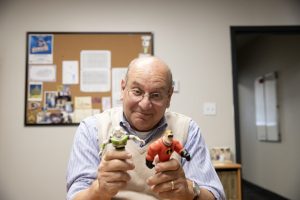 Spend time with Falk and you will most likely hear an object lesson that applies directly to your life. Using popular characters and his collection of figurines he finds interesting ways to connect to his students. Ever wonder what Buzz Lightyear and Mr. Incredible have in common? Listen in to hear more.
Listeners can look forward to discovering fascinating tidbits and fun facts about their teachers and peers alike on the podcast. Admired teachers will share their invaluable experiences, while star athletes will provide insights into their respective sports. 
Be sure to mark your calendars because a fresh episode will be released very soon. This episode is hosted by students Matthew Tacchino as lead host and Editor Chloe McDonald as the guest host of the week.
Mobile App listen here
To read more features visit FC EagleCast, Episode No.1 – Jacob Cantu or 2022-23 Year In Review
To listen to more from the podcast page.