Two-time war veteran, Vern Schmidt, visits in honor of the 104th annual Veterans Day to speak to Fresno Christian middle and high school students, Nov. 9. The ninety-eight-year-old vet. shares memories from his life and his experience with God's provision. Local radio host, Paul Loeffler leads the onstage interview and surprises him with a side by side picture of his younger self presented by Schmidt's great-grandchildren.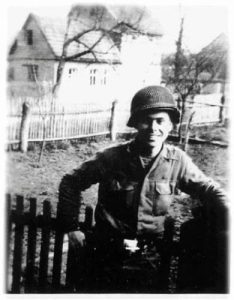 Schmidt served in the 35th Regiment in the 90th Infantry Division from 1944 through 1946 during World War II. He was recalled during the Korean War from 1950-1951, and served a total of four years of active duty and four years of reserve duty.
Entering the war as a young 19-year-old boy barely out of his teenage years, Schmidt found himself in battle within the week of arriving in Europe. Barley nine days into combat, Schmidt had already lost newly made friends to the war efforts. Despite only knowing these people for days, he vows to never forget them.
"Many paid the ultimate price for the freedom you people enjoy today." Schmidt said. "We don't brag about it, we just feel proud that we were able to serve and help a little bit to bring the freedom that we enjoy today." 
Vern's brother Glen Schmidt also served in the war. Glen Schmidt was held as a Prisoner of War (POW) at a concentration camp called 9-B in the town of Bad Orb in Hesse, Germany.
His church in Reedley, CA had 40 men, ages 17 and up, who were drafted into the military during WWII. As each one went to war, the local church put their name on a plaque, and a member of church prayed over the names 24/7 while they were away in action.
On Easter Sunday the local church was still in prayer as the Second Calvary Mechanized Squadron, where Schmidt would soon be transferred, helped in liberating the same camp where Glen was being held. The squadron was successful in emancipating 3,000 American soldiers including Glen as well as innocent civilians from surrounding countries.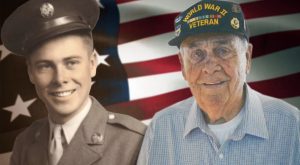 From the forty that were drafted from Reedley California, forty made it home.
Vern Schmidt found comfort during the war by meditating on the scripture, specifically a chapter that his father gave him, Psalm 91. Schmidt was overwhelmed with peace while realizing that God will never leave you nor forsake you, and always will protect you. 
"God's word is a living book and it is a daily food for your soul" Schmidt said.
After the war, Vern Schmidt met a young Jewish boy who was involved with making the bomb shells. The boy shared how they would jimmy-rig the bombs in hopes of disarming them. Vern had been apart of the liberation of that very boy's factory where his life could have ended if it were not for the non-functional bombs.
It was interactions like these, Schmidt said that made him realize that not only did he make an impact on the people he fought for but they unknowingly fought for him too which made all the difference on whether he stands here today.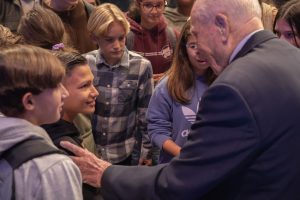 Junior, Dylan Fittro talks about the impact of Vern Schmidt's words on his life.
"It definitely puts some respect behind their name with what they had to go through," Fittro said. "It was really cool to hear their story."
People like Vern Schmidt are the reason that President Eisenhower declared November 11 Veterans Day so many years ago. It was for the men and women alike who fought bravely for the nation that so many call home. No matter what day, always thank the people who served for our country, always thank a veteran.
To read more from the Feather visit, Operation Christmas Child or [Podcast] FC EagleCast, Episode No. 2 – Scott Falk.
Video interview with WWII veteran Vern Schmidt and Mic'd up hosts Owen Gainer and Ian Palsgaard.