Fresno Christian 2022-23 boy's tennis finishes season as champions
Eagles finish the season as champions of Division IV
The Fresno Christian boy's tennis team had a storybook ending to a successful season. Coached by Robert Foshee and Daniel Jessing– also known as "Bulldog"– the team won the D4 CIF Central Section Championship over Reedley High School, 5-2. This was a step up for them as they usually compete in D5.
This year, the team had three seniors: Andrew Scully, Daman Dhillon, and Silas Emerian. Furthermore, even though Dhillon is a senior this was his first time playing on the team.
For Dhillon, winning a championship was all that he wanted.
"I saw the potential that the tennis team had last year and I decided to commit to the sport as they had the best chance of getting me a ring," Dhillon said. "I played briefly last year and I enjoyed the sport."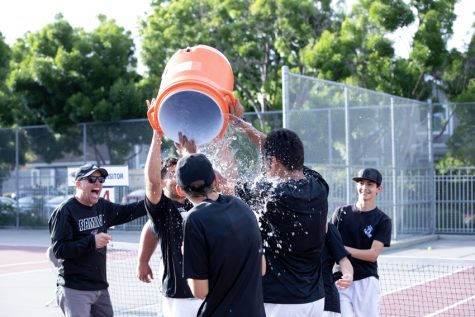 "My favorite part about tennis was finally experiencing that feeling of winning a championship, which is what I had been yearning for." Dhillon said.
The championship match was down to the wire when doubles began play. Fresno Christian was up 4-2 which means they only needed one more win to secure the championship.
Sophomore homeschooler Bek Jett, who plays #1 singles, was playing third doubles with 10 seed Daman Dhillon. Dhillon and Jett only needed their win to clinch the championship..
"All three of our doubles matches were going well," Dhillon said. "But I told Bek Jett that I wanted to be the match to win the championship. So we locked ourselves in and destroyed our opponents in the 2nd set, not even realizing we won until we were rushed by our teammates."
Coach Robert Foshee felt that the chemistry of the team was very important to success. 
"I think each player had their own strengths, styles, and abilities, but each person encouraged and lifted up their teammates," Foshee said. "It didn't matter where someone was on the ladder, each person cheered on everyone else. We had really good team chemistry."
This year for the Eagles the top 3 players were sophomores Jacob Pimentel, Bek Jett, and Nathan Bridges.
 Pimentel spoke on what it was like being a key player as a sophomore.
"This year being able to be a big part of our team was exciting to see the effort pay off. I always felt comfort because no matter what happens out there my team had my back and were understanding and super supportive."
Foshee got to see what this team was capable of when he watched them face tough opponents.
"I think as we played at the California Tennis Classic at Central High School, we played some really good teams that were higher divisions than us," Foshee said. "As we played those matches, the coaches realized how special this team could be.
I felt so excited for the players when we won! Coach Bulldog and I have been through other championships, but to see the excitement and joy on this year's players' faces and see the culmination of all this season's work, it was amazing."
Because this is a very young team with only one of the top six singles players graduating, the coaches and players have their eyes set on creating a dynasty for this tennis team.
For more articles, read Susan Lynch lectures at San Joaquin Valley Town Hall and Trade schools as a valuable alternative.
Leave a Comment
Your donation will support the student journalists of Fresno Christian High School. Your contribution will allow us to purchase equipment and cover our annual website hosting costs.