[media-credit name="The Feather" align="alignleft" width="332″]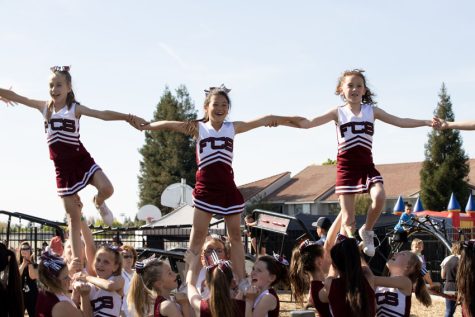 [/media-credit]
The annual Eagle Fest brings students and their families together to support Fresno Christian, April 21. Hundreds of FC families participate and help raise money for the school and sports. With free admission, the event focuses on bringing the FCS community together. With a carnival-like atmosphere, there were bounce houses, food stands, face painting and more! The food stands were run by students to raise money for each sport.
Giada Gilmore '27 shares how Eagle Fest is fun for the whole family and brings everyone together. 
"Eagle Fest definitely brings the school together. It's a way for the high school and middle school students to help out and have fun while showing support to the younger kids," Gilmore said. "I think Fresno Christian is a very close community but also a growing community, people are always wanting to help and serve." 
Elementary cheer also performed the routine they have been working on all year. After they showed off their skills they invited everyone to join together and dance to 'Church Clap'. Students and their friends hung out while supporting their school. 
Freshmen cheerleader Danielle Arndt explains that it is neat to see the elementary girls cheer and continue to do cheer while furthering their education.
"As a flyer and being on the cheer team here at FCS for 2 years it is encouraging to see the girls cheer at a young age knowing they will one day be on the high school varsity team."
To read more from The Feather check out, Students take on Europe during school trip or Moving Forward: Priorities