Fresno Christian Student Leadership closes off the fall sports season strong with a holiday-themed rally. High school students will be meeting in the FC Gym Nov. 14 after second period in place of homeroom. The rally will include a series of challenges with the purpose of uniting the student body and building school spirit. 
Leadership member Jacob Pimentel, '25, voices his enthusiasm for the event after working behind the sense to ensure the best experience possible. 
"I can't wait to bring back the rally as last year it seemed to be a great success," Pimentel said. "I believe this time we are making even more improvements so that more students will have fun and get to enjoy a break from the normal school day."
There will be a healthy competition between grades. They will be judged on performance, participation, spirit and hype. The louder their student section is the more points they can earn despite their standing in the games.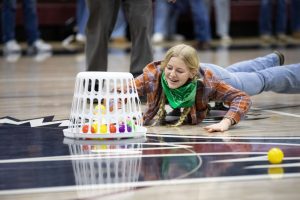 Each grade is assigned a specific holiday to represent. 
Freshmen: Valentines Day
Sophomores: Halloween
Juniors: 4th of July 
Seniors: Christmas
The winning class will be recognized at the end of the rally with bragging rights and a sweet treat as a reward.
Anticipation is high after the positive experience students had during the last rally. Senior Serenity Cortez is ready for a second chance at victory.
"I'm super excited, it's going to be one of our last rallies as a senior class so I'm looking forward to coming together and showing everyone how competitive we are," Cortez said. "We didn't win last year so I'm hoping we finish strong with a W."
Help your class earn points by dressing according to your theme Nov. 14.
For more from The Feather read State championship within reach for girls volleyball or 38th Annual Fresno Christian Homecoming.