Alumni, students and families packed the stands for one of the biggest nights of the year,  the 38th Annual Homecoming, Oct. 27.  This year's theme, "Lights, Camera, Homecoming" literally rolled out the red carpet. Homecoming week was full of activity as students sacrificed countless hours building floats, dressing up and embracing the Hollywood-themed.
Decked out in Fresno Christian spirit wear, students began day five voting for the class homecoming candidates. Leadership took over the SMC blowing up balloons, constructing props and setting up for the big night. Nominees took to the field for their walk through as classes buzzed with anticipation. 
Eagles Battle the Orcutt Spartans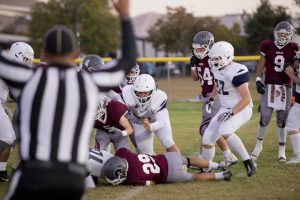 On the field, the FC Eagles defeated Orcutt Academy, 42-24. Joshua Kubota, '25, had a great game against the Spartans with 9 receptions for 147 yards. Logan Stotts, '24, led the Eagles to victory with 19 completions for 221 yards and throwing four touchdowns to Kubota and Jude Sheppard.
Senior Ben Karlson had the privilege of sharing his last homecoming with his sister Georgia Karlson, '27.
"I'm going to miss playing high school football and the teammates that made it fun," Karlson said. "Watching my little sister be a part of the homecoming court for my last high school hoco, made the experience even more special."
Royal Court dazzles on the red carpet
During halftime, the red-carpet ready princess and queen candidates rode in style in Ford Broncos. Once the candidates arrived, the stands were filled with Eagle fans, family and friends. The princesses and queens were escorted by parents, other loved ones and the king nominees. 
Before the 2023 royal court was announced, prerecorded messages introduced each nominated candidate to the crowd. 
Senior King – Christopher 'Boomer' Mericle 
Senior Prince – Jacob 'Jake' Wyatt
Senior Queen – Gabriella 'Gabby' Hutcheson
Senior Princess – Sophia Adams
Junior Princess – Grace Mynderup 
Sophomore Princess – Danielle 'Dani' Arndt
Freshman Princess – Anna Pascual 
Gabby Hutcheson, who was crowned as the Homecoming queen at the football game, shared why she loved being a part of the 2023 homecoming court.
"Everything, all the events we did for this event was really fun, and it was more fun doing it with the people on the court with us too," said Hutcheson. "It was such a unique experience and it was really fun doing it with the people that I love."
Junior Princess Grace Mynderup celebrated her sweet 16 birthday and a sweet victory of a homecoming princess.
"I'm so thankful to be nominated and win on my birthday!" said Mynderup. "I'm very happy and grateful to my class."
To purchase photos from homecoming night, go to The Feather Online Smug Mug.
Senior homecoming court winners

From left to right senior homecoming court, Princess Sophia Adams, Queen Gabby Hutcheson, King Boomer Mericle, and Prince Jake Wyatt.

Senior Queen and Princess

Senior king crowned by 2022 homecoming king candidate.

Queen Gabby Hutcheson and King Boomer Mericle.

Senior Queen Gabby Hutcheson and Senior Princess Sophia Adams.

Senior King Boomer Mericle and Senior Prince Jake Wyatt.
Alumni return to take in annual tradition
Traditionally, the King and Queen from the prior year will return to crown the new winners on homecoming night. Alumna and Senior Queen Brandy Penberthy appeared with King candidate Joshua Chinn, who attends California State University, Fresno.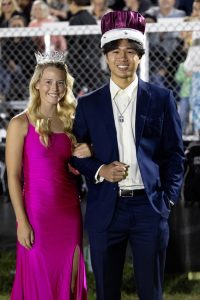 Last year's king, alumni Andrew Scully, was unable to continue the tradition of crowning the new winners. Scully was over 2,000 miles away in Pennsylvania attending a gap year ministry program.  
Many other alumni returned for the homecoming night, visiting old friends, seeing the floats, and enjoying some Friday night football. Alumna Amanda Johnson, '23, appreciates all the hard work students put in to make these events happen.
"Homecoming is just a fun way to get back on campus and see what everything is like after graduation," said Johnson. "It's really interesting to be on the outside looking in, and being able to see all the hard work that we used to put into events like this." 
Hollywood blockbuster floats 
Students spent several weeks building "A-list" floats to present to the FC community and the float judges. Weeks prior to the deadline, the float budget was cut down from $250 to $200 leaving the float build committees to rely on donations and to their class' creative resourcefulness. 
During the homecoming football game, the float judges allotted points in six categories for each float. The categories included theme, craftsmanship, class participation, proportions and presentation, ingenuity/originality and public appeal.  
First place –  Senior Cars 
Second place – Junior Indiana Jones
Third place – Freshmen Elf 
Fourth place – Sophomore Batman 
Senior Luke Portale made his class victory possible dedicating hours to the Cars themed float.
"I'm glad that float building is done, but it was really fun getting to see the artistically-inclined people in my class get to show off their abilities," said Portale. "It's been fun building them the last three years. I'm just glad we won our last year."
The seniors' biggest competition that night was the junior class with their Indiana Jones-themed float, which snagged second place. Natalie Sullivan, '25, sees the bright side of all the hours and work committed to homecoming.
"I think that homecoming was totally worth it, " said Sullivan. "It taking so much time and effort that we have put into it but Indiana definitely paid off so thank you to everybody who worked so hard and I hope that everybody had a great homecoming and that they appreciate all the work, time and effort that has been put into it."
Homecoming Floats
First place awarded to senior class for Cars themed float.

Second place awarded to junior class for Indiana Jones themed float.

Third place awarded to freshman class for Elf themed float.

Last place awarded to sophomore class for Batman themed float.
Below are the daily wrap-up articles for each of the homecoming days leading up to the big night:
Day 1- 2023 homecoming day one wrap up 
Day 2- 2023 homecoming day two wrap up 
Day 3- 2023 homecoming day three wrap up 
Day 4- 2023 homecoming day four wrap up 
Video shot by Micah Friesen edited by Boomer Miracle
To read more from The Feather visit: New Technology Advances or Gaming Review: Bloons tower defense 6