"Lights, Camera, Homecoming," Fresno Christian's 38th annual homecoming week has officially begun! The energetic week culminates October 27 with the FC Eagles facing the Orcutt Spartans. The week leading up to the big game and debut of the 2023 homecoming court will be filled with glamorous dress-up themes, competitive princess games, and a royal dance battle. 
Anticipation skyrockets after the 38th Annual Fresno Christian Homecoming was postponed two weeks, finally the time has come. Monday, Oct. 23 marks the first official day of the HOCO '23 week with a packed day of dressing up and a royal lip sync battle.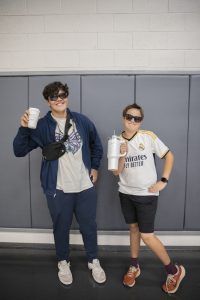 Students hop on the suburban parent fashion trend dressing as cliché soccer moms and stereotypical BBQ dads. They come armed with their #1 Dad aprons and Stanleys.
Dress-up days offer an opportunity for the student body to show school spirit by participating. Natalie Sullivan, '25, loved the starting HOCO dress-up theme and came prepared in her BBQ dad fit. "I think it is so fun to see everyone all dressed up!" said Sullivan. "My favorite part of my outfit is my Lawry's seasoning salt. It is so random but perfect."
Royal Battle
The day's festivities did not end there. After a special schedule day, the high school body finished with their usual classes at 2:20 p.m. and headed to the Student Ministry Building to enjoy the Royal Battle. Emceed by history teacher and Feather advisor Kori James, the students watch the annual lip sync battle performed by the nominated senior king and queen candidates. The 10 participants are paired into couples and present their renditions of classic pre-choreographed dances, competing for the royal battle bragging rights. The four judges struggled to award the top three,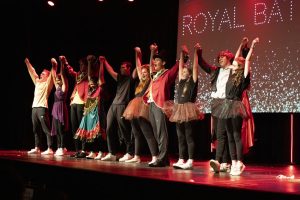 1st place – Boomer Mericle and Sophia Adams –  "A Lovely Night" from La La Land
2nd/3rd Tied- Kaleb Marquez and Gabby Hutchinson – "Mamma Mia" from Mamma Mia
Donovan Guglielmana and McKenzie Sue – "Cruisin 4 a Bruisin" from Teen Beach Movie
Mericle and Adams spent long hours rehearsing and perfecting their winning dance inspired by Ryan Gosling and Emma Stone's dance scene. Mericle said coordinating practice times and coming up with original choreography was the hardest part.
"Some people's songs had built-in choreography, but Sophia and I managed to do it all on our own. Humbly, no, I wasn't surprised that we won. We put in the most work," Mericle said. "We both enjoyed it so much it was easy to practice all the time. The fact that us having fun could allow the other students to get hype and have fun was just an amazing experience."
Freshman Float
Monday's activities build the excitement for the long-awaited Friday night homecoming game. Each grade was assigned a blockbuster movie matching the Lights, Camera, Homecoming theme.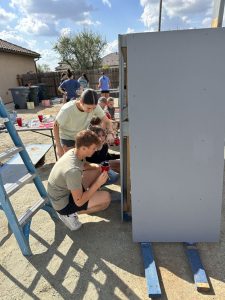 The Freshman class prepare for game night by continuing the float tradition, creating an Elf-inspired display. They were responsible with transporting the viewers into the beloved Christmas movie's atmosphere, and this has not been an easy task. Emma Anshutz, '27, talks about the troubles they faced, including having to repaint their backdrop due to the weather. Despite the challenges, Anshutz found the whole experience enjoyable as they "got to spend time together and grow as a class." 
The freshmen have also received help from their chosen princess candidates Ashlyn Dyke, Anna Pascual, and Lillian Gainer. To get to know the class of '27 nominees read Freshmen princess candidates!.
Coming up tomorrow…
Dress up day: Twin Tuesday
Princess Lunch Pageant: Castle Crashers
Girl Tennis playoff match (2:00 p.m)
Girls Volleyball playoff match (6:00 p.m)
To further hear of the annual lip sync battle read '22-23 Homecoming Day Four recap
To read more from The Feather visit Food Review: Students favorite Dutch drinks under review or FC EagleCast, Episode No.1 Jacob Cantu.