The Fresno Christian girls tennis team is coached by Robert Foshee with a goal to glorify God in every serve, ace and backhand. 
The 12 members of the team practices every Monday, Wednesday, and Friday. Practices began only 20 days before their first match against San Joaquin Memorial High School, Aug. 21. 
Last season ending with an undefeated league champions title will be hard to top. The girls excelled in singles with Sophia Adams, '24, winning the singles league championships.
"I've been playing tennis at Fresno Christian since my freshman year," said Adams. "That year was the year we won the playoffs championships. I would love for us to win playoffs again for my last high school season. It would be a full circle moment for me and my fellow seniors!"
Amyia Van Oosten, '25, K'Lanna McArn, '26, and Sophia Adams lead the team as the top ranked players on the competitive ladder in the Central Valley D3 league.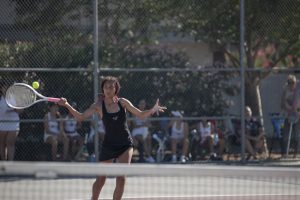 Isabella Adams,'24, held the number one spot in the past year, however, fracturing her fibula ended her senior season early. 
Although Isabella may not be on the court with her twin sister or her teammates, she continues to be the team's biggest cheerleader, attending every practice and match. The team will miss her on the court but Isabella is still working hard behind the scenes as a coach. 
"Very very fortunately, I get to help coach the girls tennis team this year," said Isabella Adams. "Bulldog and Foshee let me run drills and practice and coach the team during their matches, which has been so much fun. My job outside of school is to coach kids and teach them tennis, so it fits right in with what I enjoy doing!" 
Senior Ruby Baker, has played since sophomore year and loves her teammates as much as she loves the game.
"Tennis has introduced me to some of my closest friends and it's just a great team environment," said Baker. "The tennis team has teammates as a top priority with things as small as cheering matches on to big things like team get togethers. Although the team is very spread out between grades it is definitely a close community."
With a shared goal to be 2023-24 CIF championships, the team battles hard to rise to the top of their league.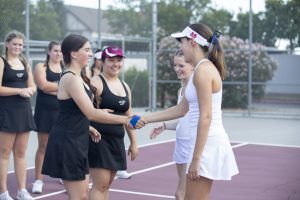 "Our goal is to compete as a team, glorify God and win league and section championships," said Foshee. The team's main goal is making them live up to expectations. 
To support your FC tennis girls on their journey to becoming sectional championships, visit the Athletics page for their upcoming matches. 
To read more visit Looking ahead, 2023 or Girls 2023 volleyball season championship bound