Fresno Christian girls' volleyball team is gearing up for yet another season. In the previous year, the team took home the CIF championship under the guidance of Coach Steve Guglielmana. The Eagles have been diligently practicing multiple times a week in preparation for the upcoming season.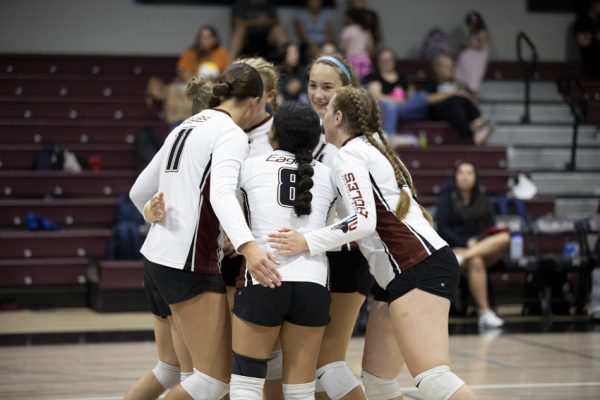 The girls' volleyball program welcomes three new coaches this year: Alumna Jackie Guglielmana, Justin Van Loon, and Stacie Wold. Additionally, Eric Cisneros and Layne Bersano are returning coaches, eager to enhance the program and serve as role models for their players. At every practice, the coaches open with devotion and often discuss the importance of finding one's voice and having the courage to use it, both on and off the court.
Wold is excited to step into her new coaching position at FCS. 
"I love coaching here, I love the coaching staff, I love the girls," Wold said. "It's a different atmosphere when you walk into the gym. The girls are close and it really shows."
The varsity team boasts a diverse composition with four sophomores, two juniors, and seven seniors. Faith Degroot, '24, and Savannah Cisneros, '24, hold the roles of team captains, setting a high standard for the program while proudly representing Fresno Christian.
Wold is dedicated to pushing her captains, ensuring they serve as excellent representatives of the girls' volleyball program.
"The captains lead the team. I'm harder on our captains because I expect them to hold themselves accountable on and off the court," said Wold. "They represent themselves, parents, and the program all combined." 
Faith DeGroot, '24, speaks of her last season on the team and future plans for her volleyball career.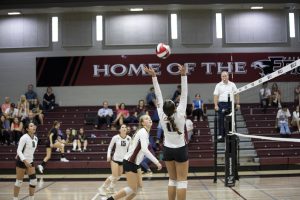 "I'm very excited for this season," says DeGroot. "We have a lot of experience with all the players on the team and we are pretty confident coming into this season especially due to our win last season. Following this season, I'm definitely looking into playing for college, potentially at Masters University, where my previous Teammate Mckenna Brady plays."
There are three high school teams all together. Varsity, JV and Freshmen. To keep up with their busy schedule visit our Athletics Sports and Schedules page.
Be sure to mark your calendars to come support your FC Eagles at the next home game in the FC Gym, scheduled for Sept.19, at 3:30, 4:30 and 6 p.m.