The Feather Featured Art series is chosen by art teacher Vickey Belmont from her classes and/or independent art students. Belmont picks the best work during current units and encourages students to participate in these occasional posts. Other students are encouraged to submit art pieces as well. Please contact the editors directly or via adviser Kori James for submissions.
Description by art teacher Vickey Belmont: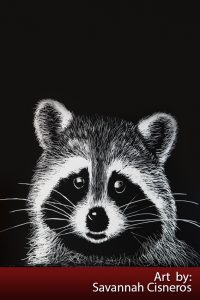 The last project of the fall semester, art students are completing a scratchboard. A scratchboard is a thin piece of cardboard that is covered with a coating of fine white clay, then covered by a layer of India ink.
Scratchboard art is a way to create an image using a sharp tool. Artists scratch away the black ink to reveal the layer beneath. The uncovered image is a series of light lines against a dark background.
Scratchboard art is considered a type of direct engraving: the process of cutting an image into a surface. Search the SmartArtBox website for some examples showing examples of precise scratchboard art.
Scratchboard is not about just scratching an outline on the surface or just a process that creates a negative image where dark and light areas are reversed. It is the process of removing the dark to reveal white. A dramatic impression or image will emerge from the black background with a skilled hand.
Art students use exact knives and a specific scratchboard tool but there are many tools that can be used to achieve the precision that is needed for some art pieces. Cutting knives, etching needles, and stylus are just a few. Read more about etching tools via SliceProducts.com.
I ask the students to find an animal they would want to use for their project. They used a black and white photo and transferred the image to the scratchboard with white chalk.
Using the chalk lines as a guide, they began to use different techniques such as stippling, hatching and cross hatching to create the desired effect of the animal's fur.
This sites gives you a step by step guide to creating your own scratchboard art. Visit ArtistsNetwork for more scratchboard art techniques.
Freshman Savannah Cisneros created a raccoon using the techniques described above. Her understanding of this project shows in the finished piece of art she created. The raccoon has such detail that you almost feel like you are looking at a real animal.
I love seeing the finished work that is created with this project and some students surprise themselves with their abilities, especially if this is their first time trying scratchboard. Savannah's art piece is one of a few that really stood out to me this year.
If you want to try scratchboard, Amazon has scratchboard supplies. For those who would like to try this art form at home, a beginners guide and other more advanced videos for scratchboard can be found via Bing videos. 
Freshman Savannah Cisneros:
For this project, I carefully etched a raccoon. When you scratch the surface of this paper, white is revealed from behind a layer of black. The process was stressful because you can't undo any mistakes once you have etched onto the paper.
This project took me about a week to finish and I tried to be very careful with every stroke I made with my etching tool. I slowly scratched away at the paper creating a fur-like texture. It became more and more life-like every day I worked on it. All of this work was worth it and I am very happy with how it turned out.
For the previous art post, read Feature Art No. 3, 2020-21: Notan. For more Feather articles, read Retired Disney CEO gives advice on leadership in "The Ride of a Lifetime" or Home ec. to the holiday rescue.