Fresno Christian Eagles kicked off the Football season on, Aug. 18, against Mammoth High School on Eagle's home field. Bleachers were packed with students decked out in Hawaiian theme apparel with Hawaiian shirts and leis to bring awareness to the victims of the Maui wildfires.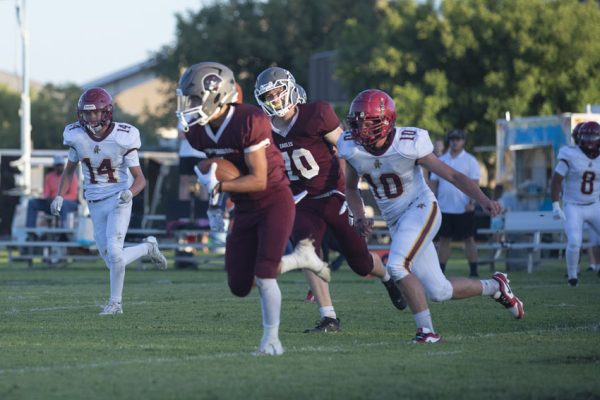 Game highlights
Eagles closed out the game by defeating Mammoth 34-6, setting the pace for the rest of the 2023 season.
Logan Scotts,'24, was able to pull off three consecutive touchdowns which were followed up with a touchdown made by Dylan Fittro,'25.
Gavin Hoffman,'26, opened the season starting for the first time as center.
"Highlight for the night was the hype feeling of being in full pads with a stadium full of fans," Hoffman said." The pre-game locker room pumps us up and it's pretty epic."
In full tacky tourist Hawaiian attire, leadership hosted hula hoop and limbo contests throughout the game to an energetic student section. 
Hula hoop runner-up, Jasity Wilborn, '25, hopes for a rematch in an upcoming game. 
"I can't believe I lost to Donavan!" Wilborn said. "Such a fun night, my favorite highlights were the group-led chants and the yummy mac and cheese."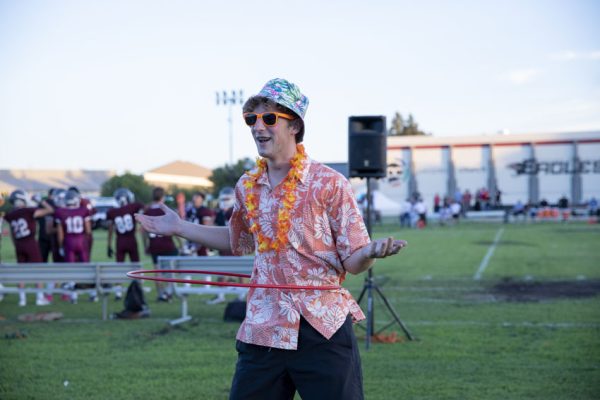 Winners for the night were:
Donovan Guglielmana,'24, hula hoop competition
Vivian Cheema, '26 , limbo competition
Fifth quarter was held post-game at Mn-Ed' jammed packed celebrating the first win of the season.
FCS Football Schedule
8/25 United Christian Academy  5 p.m./7 p.m.**
9/2 Branson High School 1 p.m.**
9/9 Stuart Hall**
9/16 Riverdale Christian*
9/22 Woodside Priory 5 p.m./7 p.m.** 
9/29 Alpaugh 7 p.m.*
9/30 JV Kern Resource High School
10/7 JV Legacy Christian
10/13 Laton High School 7 p.m.*
10/20 Sierra High School 5 p.m.*
10/27 (Senior Night) Orcutt Academy 6 p.m.*
11/3 Playoffs Quarter-final
11/9  Playoffs Semi-final
11/17 Championships
League*
Non-League**
Home Games In Bold
p.m./p.m. JV and Varsity
Throughout the week Leadership and The Feather promoted opportunities to donate and support Convoy of Hope, a charity organization on the ground mobilizing relief efforts for the people of Maui. Through The Feather
Online's Instagram, $1,440 was raised in one week. 
If you would like more information on how to support the funding of the misplaced victim's visit Convoy of Hope website.
For more Feather news visit First football game honors Maui wildfire victims or Hurricane Hillary impacts Fresno residents