Student-athletes are celebrated at the first annual Athletics Awards Night hosted by the Fresno Christian Booster Club, May 1. 119 high school athletes were commemorated for participating in a sport and maintaining a cumulative GPA of 3.5 or above.
Each grade recognized its top male and female scholars. Individual teams were acknowledged for their success over the past season. President of the Booster Club, Justin Connolly and vice president, Max Wyatt shared their excitement for the future in the coming year while giving a speech to all athletes. 
Coaches are spotlighted for their outstanding training and dedication. Girls and boys tennis coach, Daniel "Bulldog" Jessing was voted Coach of the Year by Fresno Christian. The Fresno Bee acknowledges Coach Steve Guglielmana as Coach of the Year after leading the girls' volleyball team to a CIF central section championship victory. 
Senior McKenna Brady is spotlighted as well by the Bee as Small School Player of the Year with 176 kills the past volleyball season. Keagan Brunnemann, '24, was recognized for her incredible soccer season.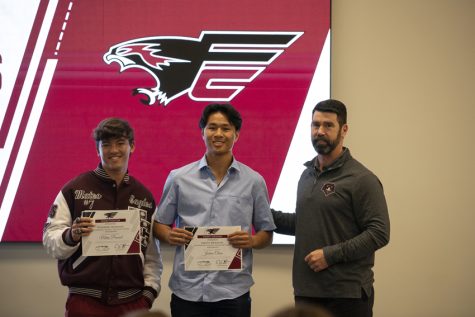 Brunnemann had 46 goals, 38 assists and 130 total points – according to MaxPreps she led the state of California in total points and finished in the top 15 for the nation.
A new tradition started, named the "Zaentz/Thompson Football Scholarship," celebrating graduating senior football players who demonstrate excellence on and off the field. Mateo Pascual, '23, received the Kasey Scott Thompson Outstanding Offensive Player along with $1,500 to apply to his college tuition. Joshua Chinn, '23, was awarded the Tyler Walker Zaentz Outstanding Defensive Player as well as $1,500 going to his college tuition. 
Jazmine Davidson, '23, was awarded the Female Eagle Award for being a well-rounded athlete on and off the field. The Male Eagle Award is presented to Cooper Saelzler, '23, to celebrate his contribution to his team and skill on the court.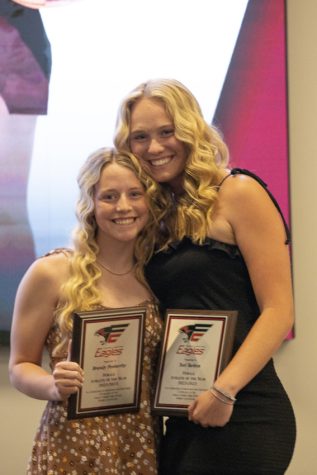 Athletes from each grade are highlighted for their outstanding athleticism and contribution to their varsity sport. Female Athlete of the Year is awarded to seniors Brandy Penberthy and Tori Tarlton for their outstanding dedication and athleticism displayed throughout the multiple sports seasons they were a part of. Male Athlete of the Year is given to Joshua Chinn and Jakob Reiker to celebrate their talent and leadership portrayed during the sports season. 
Congratulations to all the recipients As the 2022-2023 sports season comes to an end it is bittersweet to look back upon the achievements of the student-athletes. 
To read more from the Feather check out Senior Reflection: Emma Calderon or Swinging back into golf season!