"Lights, Camera, Homecoming," Fresno Christian's 38th annual homecoming week has officially begun! The electrifying week culminates October 13 with the FC Eagles facing the Orcutt Spartans. The week leading up to the big game and debut of the 2023 homecoming court will be filled with glamorous dress-up themes, competitive princess games, and royal dance battles. 
For Homecoming day 3, students dress up to the theme James Bond vs. Legally Blonde (Black vs Pink), Oct. 25. Students dress in everything from classy black suits to sassy bling skirts and heels. Through the hallways, students were seen in dark shades paired with tuxedos, and hot pink Juicy Couture tracksuits. 
Bryce Smith, '26, dresses in a striking black suit paired with a striped blue tie. Smith touched on why he chose to dress up. 
"I chose to be James Bond because I wanted to wear a suit and to help our school with the celebration of homecoming week," Smith said.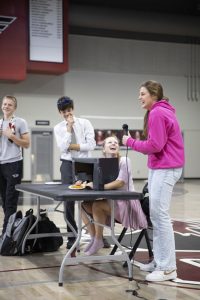 Senior Lunch pageant 
For the lunch activity, the senior king and queen nominees participate in a senior pageant, including challenging rounds of "What's in the Box." Candidates also played rounds of ultimate frisbee and rochambeau.
"What's in the box" consists of participants putting their hands in a box where they can't see the contents. Contestants speculate what's inside and make guesses purely relying on the touch of their fingers. If contestants guess accurately, their grade will accumulate points towards the overall tally for their homecoming total. Gabby Hutcheson, senior queen candidate, was shocked by what was waiting in the box for her.
"At first I was confused why everyone was making faces when I finally saw they had just put dirt, then I was so grossed out when they said it was worms," Hutcheson said.
Junior Float
The juniors voted on the float theme of Indiana Jones. They imagine the intricate details that you might find waiting in line at Disney's popular ride when they chose this theme. Junior Dawson Brinner has been working on combining the franchise into one homecoming display. 
"Our goal was to combine all the Indiana Jones movies with several key props," Brinner said. "Of course we are using the infamous boulder and had fun aging other props to display."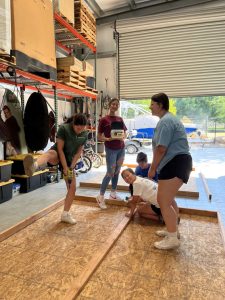 They have been diligently working on it at the Hintons' house, parents to Lyla Hinton, '25. The Hintons have hosted every float build for all three of their children and plan on continuing the tradition through their daughter's final year. They have previously hosted the builds for their other two sons who are FCS graduates, Max Hinton, '22, and Wesley Hinton, '20.
Float building always allows students to spend extra time together outside of school, Lyla Hinton gives her take on float building.
"Its been really fun, definitely a bonding experience for our class," Hinton said.
Tomorrow's activities include:
Dress up day: Characters on the Carpet (dress as your favorite movie character)

Princess pageant at lunch

Bonfire rally at 7:15 p.m., hosted at FCS on the north field
To read more from the Feather visit 2023 Homecoming day two recap and New Technology Advances