The anticipation for the upcoming 2023-2024 soccer season for the boys intensifies. The boys' team kicks off their preseason, diligently assembling a new team and gearing up for the imminent challenges that lie ahead.
One varsity team will take the field, under the leadership of head coaches Jacob Bynum and assistant coach Sergio Venegas, supported by goalie trainer Zach Aguirre. Despite the departure of many seniors from the previous year, several graduates have returned to contribute as coaches. Jakob Rieker, a returning alumnus, assumes the role of interim assistant coach, while Carson Gray serves as the unofficial athletic trainer.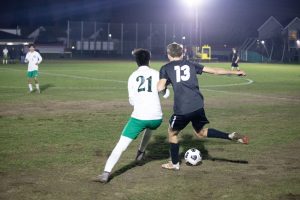 Seniors Andres Fierro and Boomer Mericle step into pivotal roles as this year's captains. With many players having graduated, there's a rebuilding phase underway, and the team is looking to fill key leadership positions. Both captains lead the team from the back, as defensive center-backs. Fierro, the newly-appointed head team captain and the previous season's MVP, reflects on his newfound leadership role.
"Being the captain is a challenge, considering that I'm not used to being seen as the guy you should look at," said Fierro.
Captain Boomer Mericle shares his thoughts on the upcoming season.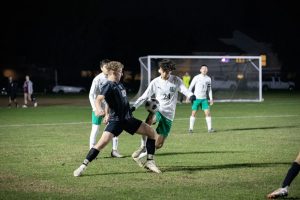 "Last year was a bit of a setback in the books. We didn't participate in any tournaments and landed in 7th place in the NW Sequoia League," said Mericle. "Rebounding from the loss of crucial seniors is always a challenge, but our coach remains persistent."
Despite the setbacks, Mericle holds optimistic expectations for the team's performance this year. He is eagerly anticipating the opportunity to mentor and guide the underclassmen, fostering a positive environment for growth and improvement.
Last year, the team garnered numerous high honors, surpassing previous records.
Honors:
Jakob Rieker – First Team All-League, Eagle Award
Samuel Rieker – Defensive Player of the Year 
Theron Myers – Newcomer of the Year 
Boomer Mericle – Newcomer of the Year 
Andres Fierro – Most Valuable Player 
Daman Dhillon – Defensive Player of the Year 
Andrew Scully – Offensive Player of the Year 
"This is undeniably a rebuilding year," Jacob "Jake" Christensen said. "With new players, new leadership, and a different formation with shifted positions, it's going to be a challenging year, especially with many of our players graduating last season. But we're prepared for the challenge."
This resilient mindset encapsulates the spirit of the FC boys soccer team.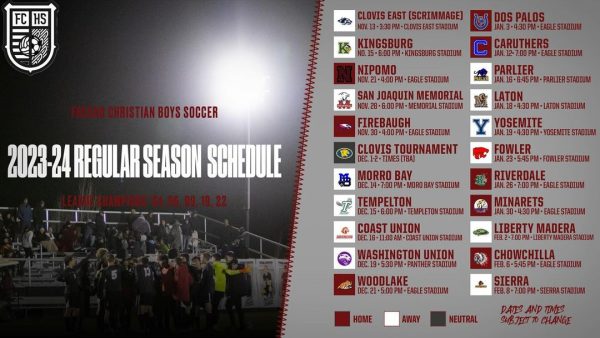 Their first game will be on November 13, Monday at Clovis East.
Schedule for the Season:
November
13 MON 3:30 PM (PST) at Clovis East 

15 WED 6:00 PM (PST) at Kingsburg High School

21 TUE 3:00 PM (MST) vs. Nipomo High School 

28 TUE 5:00 PM (MST) at San Joaquin Memorial

30 THU 3:00 PM (MST) vs. Firebaugh High 
December
14 THU 6:00 PM (MST) at Morro Bay High School 

15 FRI 5:00 PM (MST) at Templeton High School 

16 SAT 10:00 AM (MST) at Coast Union 

19 TUE 4:30 PM (MST) at Washington Union High 

21 THU 5:00 PM (MST) vs. Woodlake High school 
January
3 WED 4:30 PM (MST) vs. Dos Palos High School 

12 FRI 6:00 PM (MST) vs. Caruthers High School 

16 TUE 5:45 PM (MST) @ Parlier High School 

18 THU 3:30 PM (MST) @ Laton High School 

19 FRI 3:30 PM (MST) @Yosemite High School 

23 TUE 4:45 PM (MST) @ Fowler High School 

26 FRI 6:00 PM (MST) vs. Riverdale High School

30 TUE 5:00 PM (MST) vs. Minarets Fresno Christian 
February
2 FRI 6:00 PM (MST) @ Liberty Madera High School 

6 TUE 4:45 PM (MST) vs. Chowchilla High 

8 THU 6:00 PM (MST) @ Sierra High School
To read more from The Feather Online visit, Changes around campus or Food Review: Crave VS Crumbl.