The Class of 2023
Congratulations to the graduating class of 2023! This year, the graduating class consists of 56 seniors, with 10 of them being lifers and a record-breaking 36 of them being CSF members.
Each member of the graduating class has their own favorite stories and highlights of their time at Fresno Christian. 
Senior Brandy Penberthy shares her favorite memory from this school year.
"My favorite memory is probably senior retreat at Hume or winning the volleyball championships," Penberthy said. "[At senior retreat] I liked that we switched up teams to people that we normally wouldn't group with…it was fun bonding with people we usually don't bond with."
After high school, Penberthy will be attending The Master's University. With the plan to major in business and minor in marketing and media, Penberthy hopes to become a wedding planner. She also plans to continue playing beach volleyball at TMU.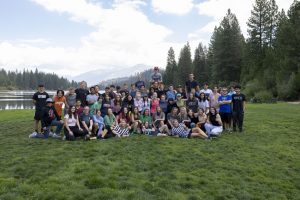 Lifer Seth Radke, '23 concurs with Penberthy, as Senior Retreat was his favorite part of senior year and his time at Fresno Christian. 
If Radke were to give one piece of advice to incoming freshmen, it would be to enjoy every moment and not rush through high school.
After graduation, Radke plans to attend Madera Community College to study videography, music and art.
Senior Zoe Bull is also a lifer. She gives special thanks to her teachers Martha Lange, Janet Vanderkooi and Kori James.
"Because I had these amazing teachers," Bull said. "Many of the years that were most memorable for me corresponded with them. Without their guidance and nurturing of my passions and gifts, I would not be where I am today."
Post-high school, Bull hopes to attend Grand Canyon University to pursue a career in graphic design and advertising.
To learn more about  the students who have attended since kindergarten, check out the Senior Lifer series by Julia Castiglione.
Andrew Scully, '23, is taking a gap semester after high school, despite receiving over $500,000 in college scholarship offers. Scully shares why he made this decision.
"I was not really sure what I was going to do in college," Scully said. "I was not sure about my major, and [taking a gap semester] seemed like a really cool opportunity to get into missions trips. The fact that I had a lot of scholarships made it a little harder to decide that, but I think that the door opened for me and I was really excited about it… I don't think the decision was super hard."
The graduation ceremony for the class of 2023 will be held in the People's Church Auditorium, May 25, 2023, 7 p.m. For the audience, the doors will open at 6:30.
To find out more about where the senior class is headed post-high school, see National College Decision Day: 2023.
Below is a slideshow featuring the seniors over the '22-'23 school year.
To read more from The Feather see Photo Reflection: Natalie Garcia, or Senior Chapel
Leave a Comment
Your donation will support the student journalists of Fresno Christian High School. Your contribution will allow us to purchase equipment and cover our annual website hosting costs.