On Veterans Friday, 156 high school students embarked on a thrilling journey to Magic Mountain for Fresno Christian High School's annual Sadies event.
Sadie Hawkins, a cherished tradition, involves ladies inviting gentlemen to be their companions for the occasion. Starting in August, girls asked their male friends to accompany them – often using witty posters and delightful baskets of goodies.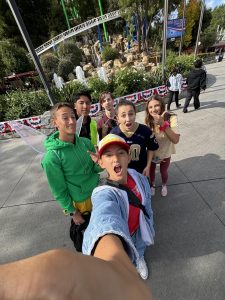 The leadership team at Fresno Christian High School planned this event for months. In light of inflation, the leadership students took initiative by selling homemade baked goods weekly to offset costs. Their efforts proved successful, reducing the ticket price from an estimated $110 to a more affordable $90.
To ensure a seamless and enjoyable experience, four buses were rented for transportation with the senior bus doubling as a lively party bus (double-decker). These well-maintained buses even featured TV entertainment for the students' enjoyment.
The chosen theme for this year's Sadies was "Rhyme without Reason" and "Reason without Rhyme." Participants embraced this concept by donning corresponding and amusing costumes. Notable examples included Hannah Montana with Savannah Banana and a fairy accompanied by a dairy. Some chose costumes that matched without rhyme, such as Shark onesies and iconic Disney characters Mike Wazowski and James P. Sullivan (Sully) from Monsters Inc.
Senior Ruby Baker enjoyed that the theme allowed couples to match in a fun way. "It was really fun to brainstorm costume ideas that were completely unique to each person!" said Baker. Baker and her date arrived as a tennis pro and a fraternity bro.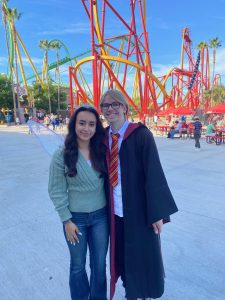 Upon reaching Magic Mountain, students were free to explore the park with their groups of friends. While some eagerly joined the lines for thrilling rides, others strolled around, taking in the sights. Pop-up carnival games captured the attention of many with some students triumphing over the rigged challenges and leaving with oversized stuffed animals. The Build-A-Bear workshop also proved popular, allowing students to create their stuffed animals on the spot. A diverse array of food options, ranging from hot dogs to acai bowls, satisfied the culinary cravings of the attendees.
Kenzie Sue, '24, agreed that the park was full of fun things to do. From the food to the rides she enjoyed her day all together. "Despite the lines being long, I still enjoyed the waiting with my friends and getting to know them better through the forced wait times" Sue said.
The students reveled in the freedom to wander and hang out with their friends, making this another memorable year at Sadies. The event has already sparked anticipation for next year's festivities.
For more photos, visit the media page.
For more articles, read: Rock climbing gym offers alternative student activity and 38th Annual Fresno Christian Homecoming.