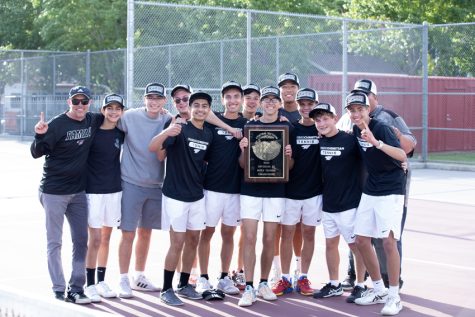 Fresno Christian boys tennis wins the Valley Championship! The Eagles defeated Reedley High School in the finals, 5-2, winning the West Sierra Division IV Valley Championship, May 12. 
After singles were over, the Eagles were up 4-2, and needed one more match win to take the title. Sophomore Beck Jet and senior Daman Dhillon take the win in doubles.
Coach Daniel Jessing describes the journey the team took over the past four years. 
"Four years ago, in 2019, Fresno Christian won the valley title as Division 5. Last season, we got to the Valley Championships but lost," Jessing said. "It was very discouraging for the Eagles, but the goal was for the seniors this year to win and have a comeback and that was just what we did."
Boys tennis was bumped from Division 5 to 4, but ended up undefeated in League, and earned a number one seed in the playoffs, making their way to finals. 
Senior Silas Emerian reflects over the past few years as a part of the team. 
"It was surreal. All the work we've put in the past few years to come to this point," Emerian said. "Last year we lost so it was great to see a win." 
For more about the boys tennis season read Tennis senior night 2023
For more articles read Senior Reflection: Aubrey Graham and Senior Reflection:Trinity Cox
For more feather photos, visit media, photos 2022-23