Through teamwork and faith, boys' volleyball advances to playoffs
Varsity boys' volleyball continues to thrive as a newly developed team coming to a close on completing their second full season. The team is made up of 12 players, two assistant managers and Steve Guglielmana as the head coach.
Guglielmana has coached girls' volleyball at FCS for three years, advancing the volleyball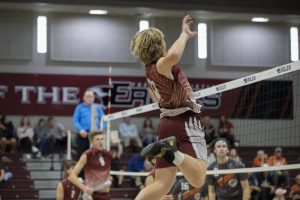 curriculum to a more advanced level. Starting off the boys to play against well established teams such as Clovis East; although losing the experience provided a great learning experience.
Entering into DIV III SoCal Championships as an inexperienced unit, the team fought all the way to the first round of state playoffs, against El Dorado, losing 3-1. The team played their hardest, providing the crowd with an exhilarating watching experience for each set.
Cooper Saezler, the senior captain and returning player, .
"The best way to describe to was loving," Saezler said. "I learned how to love my teammates by them loving me and I found peace in that."
The team also participated in DIV II SoCal Championships, playing, and winning, multiple playoff matches.
The defensive specialist Richard Williams, '23, shares a highlight of one of the countless memories made over the season.
"My favorite memory has to be winning the Merced Tournament," Williams said. "All the hours and hours of practice and strategizing was all worth it."
The future remains bright for boys' volleyball as they proved their potential this season.
To read more Feather articles, go to, Column: The importance of will and Senior Lifer – Seth Radke.